Cleveland — Right now, they don't strike fear into the Kansas City Royals or anybody else in the AL.
Once a powerhouse, the Cleveland Indians have unexpectedly become a powderpuff.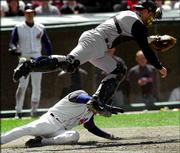 "They are a totally opposite team," said Royals closer Roberto Hernandez. "They have a totally different makeup."
Cleveland's Jim Thome let Carlos Beltran's two-out grounder bounce through his legs at first base, allowing two runs to score as Kansas City rallied for a 5-4 win Sunday over the slumping Indians.
The Royals, who like every other Central team used to get pounded by Cleveland, won three of four during the series and are 6-1 against the Indians since May 9.
"Taking three of four was great," said Kansas City manager Tony Pena, who came into the series 0-2 since taking over the Royals on Wednesday. "We got them at the right time. That was a beauty."
Not for the Indians.
Since starting the season 11-1, Cleveland has gone 9-22 and is two games under .500. The Indians, who have won their division six times in seven years, are at a critical juncture.
"This is the low point of the season to date," third baseman Travis Fryman said. "This is one of the moments during a season when you have to ask yourself and decide what kind of player you are."
Cleveland should have escaped with a win when Bob Wickman (0-2) got Beltran to hit a hopper at Thome, but the first baseman couldn't come up with it and the ball squirted past him into right field for an error.
"I thought it would come up and it went down," Thome said. "I screwed it up at the end. I made the mistake."
Jason Grimsley (2-2) got two outs in the eighth for the win, and Hernandez worked the ninth for his fifth save.
| | | |
| --- | --- | --- |
| | | |
| | When: 9:05 tonight.Where: Edison Field.Television: None.Pitchers: Blake Stein (0-1) vs. Kevin Appier (4-1).KC record: 16-36. | |
| | | |
Wickman, appearing in his third game in two days, gave up a leadoff double to Mark Quinn in the ninth and pinch-hitter Neifi Perez grounded out.
Wickman, who had 21 straight saves, then walked pinch-hitter Luis Alicea. He also walked pinch-hitter Raul Ibanez, and catcher Einar Diaz's passed ball on ball four allowed Quinn to score.
After Carlos Febles grounded out, Beltran hit his grounder at Thome, who seemed unsure whether to charge it or sit back and was handcuffed.
"When I hit it, I thought it was an easy out," Beltran said. "Then I saw Thome backing up and I knew something was going to happen. The ball bounced up and went through. We got the lead without getting a base hit. That felt good."
Wickman, meanwhile, revealed that he's been pitching with a sore elbow since spring training. But he refused to use it as an excuse.
"I had a chance to finish off some hitters, and I couldn't," he said. "I've got to be tougher than that."
Fryman's grand slam in the sixth inning had ended Cleveland's monthlong slump with the bases loaded and gave the Indians a 4-2 lead.
Fryman's second slam this season came against Jeff Suppan and snapped an 0-for-17 slide with the bases loaded for the Indians, who hadn't gotten a hit with the bases jammed since April 19 against Minnesota.
"That's not too good, is it?" Fryman said.
The Indians, who have been in a season-long offensive funk and had just two hits through the first five innings off Suppan, are still batting just .158 (6-for-38) with the bases loaded.
Fryman said the next week could determine where the Indians are headed this season.
"I think it will tell a lot about our ballclub," said Fryman. "I'll be watching some guys to see how they respond. You have to look inside and ask, 'Do I play for the money? Or do I enjoy playing the game? What kind of a player am I?'"
Fryman's slam seemed to bail out the Indians, who are batting just .242 as a team and have scored four runs or fewer 25 times this season.
But just like in most of their games this season, the breaks didn't go the Indians' way.
"You just wonder if it's going to be that kind of season," Fryman said.
Copyright 2018 The Associated Press. All rights reserved. This material may not be published, broadcast, rewritten or redistributed. We strive to uphold our values for every story published.