Dili, East Timor — With the world watching, the small island territory of East Timor proudly took its place among the community of nations today, triumphing at last over its long history of brutal oppression by foreign occupants.
Lest the country forget those bloody struggles, grisly scenes of torture filled wide screens as the country declared independence just after midnight Sunday in a joyous, but at times tearful, ceremony in the seaside capital of Dili.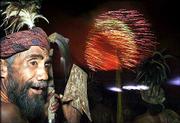 "I salute you people of East Timor for the courage and perseverance you have shown," U.N. Secretary General Kofi Annan told an exuberant crowd.
"Yours has not been an easy path to independence. You should be very proud of your achievement," he said.
Annan was one of many foreign leaders, including former President Clinton, who attended the birth of the world's newest country.
Shortly after the raising of new national flag, Xanana Gusmao, a 55-year-old poet and former guerrilla leader, was sworn in as East Timor's first head of state. Having served more than six years in jail and house arrest, he was elected president in a U.N.-supervised vote last month.
"Independence! As a people, as a territory, as a nation! One body, one mind, one wish!" Gusmao said, reciting a poem he wrote himself.
Gusmao missed most of Sunday's ceremony. He spent the time with Indonesian President Megawati Sukarnoputri, accompanying her on a visit to a cemetery containing the graves of Indonesian soldiers killed in East Timor.
The gesture revealed the enormous importance East Timor's leaders are placing on establishing good relations with Indonesia, a country whose brutal occupation killed tens of thousands of people.
Gusmao and Megawati entered the arena together. They held hands and raised them aloft as the crowd cheered and applauded.
On flags, bandannas and baseball caps, East Timorese wore their national colors red, white, black and yellow wherever they could fit them Sunday.
Tens of thousands of people smiled, cheered and hugged one another in an outpouring of emotion at the celebration, which ended four centuries of Portuguese colonial rule, 24 years of Indonesian occupation and 2 1/2 years of interim rule by the United Nations.
VIPs from around the world among them Annan, Clinton, Portuguese President Jorge Sampaio and Australian Prime Minister John Howard watched the show from a covered stand made from bamboo.
East Timor is not only the world's newest nation; it's also one of the poorest. About 40 percent of the country's 800,000 people are illiterate, and unemployment is estimated at 70 percent.
"Everything will start from zero, but I am sure it will work out because we are starting with freedom," said Joao Freitas, a 22-year old student.
Copyright 2018 The Associated Press. All rights reserved. This material may not be published, broadcast, rewritten or redistributed. We strive to uphold our values for every story published.