Baltimore — War Emblem is versatile after all, and his victory in the Preakness Stakes has trainer Bob Baffert back in the Triple Crown chase.
The ornery Kentucky Derby winner didn't lead all the way this time, but he held on for a three-quarter length victory Saturday to set up a shot at the Triple Crown in three weeks.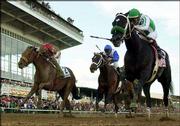 "I like my chances. The third time's a charm," Baffert said, hoping his black colt can win the Belmont Stakes and become the first thoroughbred since Affirmed in 1978 to win racing's biggest prize. "We started with Silver Charm. ... If it's meant to be, it's meant to be."
On June 8, Baffert will get his third chance in six years to win a Triple Crown. And it's all because War Emblem showed up in his barn just five weeks ago, thanks to a last-minute purchase by Baffert's friend, Saudi Prince Ahmed bin Salman.
"Today he showed a dimension that nobody thought he had take the heat and keep on going," Baffert said. "He's getting smarter. He's learned to relax and he's saying, 'This could be fun."'
Baffert's Silver Charm in 1997 and Real Quiet in 1998 both won the Derby and Preakness but fell short in the Belmont; Silver Charm by three-quarters of a length to Touch Gold and Real Quiet by a nose to Victory Gallop.
"The last two times I thought I could win it," Baffert said. "All three horses are three different horses. Fate owes me a Triple Crown."
As fate would have it, War Emblem earned his bid at racing immortality just 11 days after the death of 1977 Triple Crown winner Seattle Slew. Slew's death left the sport without a living Triple Crown winner for the first time since 1919 when Sir Barton won the Derby, Preakness and Belmont. Affirmed died last year.
Unlike his wire-to-wire victory in the Derby, War Emblem didn't start out with the lead, but was right behind pacesetter Menacing Dennis before jockey Victor Espinoza asked him to turn it on. He shot to the lead coming out of the far turn and held off 45-1 shot Magic Weisner for the victory. Proud Citizen, the Derby runner-up trained by D. Wayne Lukas, was third in the field of 13 3-year-olds.
"He wanted to be in front of everybody," Espinoza said. "He gets very competitive when somebody tries to take his position. No matter what happens, he wants to be the best and win the race."
War Emblem, a winner in six of his nine career starts, arrived at Baffert's barn a mere three weeks before the Derby, after the colt was bought for $900,000 by Salman. Russell Reineman, the former owner, still has a 10 percent interest.
"It's just amazing, he gets better and better," Baffert said. "We found out today that opinions die, records live and this horse is for real."
War Emblem covered the 1 3-16th miles in a slow 1:56.36. A crowd of 101,138 the second largest for the Preakness showed up despite an early morning downpour and temperatures in the 50s.
Sent off as the 5-2 favorite, War Emblem returned $7.60, $6 and $4.40. Magic Weisner, a Maryland-bred with Richard Migliore aboard, paid $33 and $14. Proud Citizen, ridden by Mike Smith, returned $5.
Harlan's Holiday, seventh as the Derby favorite, improved to fourth on Saturday, followed by Easyfromthegitgo, U S S Tinosa, Crimson Hero, Medaglia d'Oro, Straight Gin, Menacing Dennis, Table Limit, Booklet and Equality.
Medaglia d'Oro, the 3-1 second choice in the betting, didn't arrive at Pimlico until 12 hours before the race, with trainer Bobby Frankel electing to van the colt in from New York.
"He had a good position," Medaglia d'Oro's jockey Jerry Bailey said. "I just didn't have any horse when I needed it."
Baffert, who was out of Triple Crown options before War Emblem showed up, has now won four straight Triple Crown races and eight of the last 17.
Steve Cauthen, who rode Affirmed, will be among those rooting for one more victory next month.
"I don't know if War Emblem is the horse to finally win all three, but he may be," Cauthen said. "If he is, I'll be happy. Racing needs it."
The greatly anticipated showdown at the start with speedsters such as Booklet and Table Limit failed to materialize. After Menacing Dennis faded, War Emblem took control and withstood a furious finish by Magic Weisner.
"It's a shame we ran out of racetrack," Migliore said in what could have been the biggest upset in Preakness history. "He was getting to him really quick."
Added Baffert: "At the eighth pole, I was saying 'Wire, please, where is the wire. Please let us get this Triple Crown. It's a long stretch and I might not get too many chances."
But like the Derby, nobody could catch War Emblem, who becomes the eighth horse to try for a Triple Crown since Affirmed won.
After the race, the frisky War Emblem still had enough energy left to try to nip the outrider pony who was escorting him to the winner's circle.
Now it's off the New York.
"The experience helps, we've gone through this," Baffert said. "The main thing is to keep him healthy and to keep Victor healthy. He's figured out this horse."
Salman introduced Baffert as "Mr. Genius, Bob Baffert," and told Espinoza, "you can win the Triple Crown."
Asked how he's been received in America, Salman said: "So many people are asking me for photos and autographs. I think I am getting more popular than President Bush."
Straight Gin, trained by Nick Zito and ridden by Robby Albarado, was taken from the track by ambulance with a bowed tendon that ends his racing career.
Security was increased for Preakness day in what has become a fact of life at major sporting events since the Sept. 11 terrorist attacks. Uniformed guards checked bags and purses at the entrances, but lines moved quickly.
Copyright 2018 The Associated Press. All rights reserved. This material may not be published, broadcast, rewritten or redistributed. We strive to uphold our values for every story published.