New York — Forget his-and-hers towels. It's gender-specific beauty products that are now taking up space on bathroom shelves.
And, to make sure men don't reach for the flowery-smelling stuff, all their bottles of beauty elixirs are clearly marked "for men."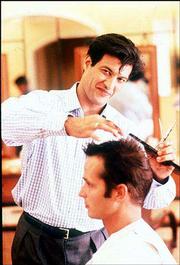 Men like products especially ones they might consider vanity products that look, smell and feel masculine, says Anthony Sosnick, founder of the skin-care line Anthony Logistics for Men. Sleek, modern packaging also is very important.
Men are more "rational" in their shopping habits than women, adds Catherine Lair, director of marketing for Nivea for Men. "They want no-fuss, convenient products. They have greater loyalty to things they like. They have a rational attitude, they want good quality and won't pay for fluff."
But besides a manly scent, what makes a men's product for men?
Quick-drying products
An effective men's skin-care product will consider the differing testosterone and estrogen production levels between men and women, says Matt Teri, vice president of product development for Aramis. It also will protect against the extra oil glands that tend to make men's skin greasy and consider the blood vessels that sit close to the surface that often give men a ruddy appearance, he explains.
The bonus is the thicker skin most men seem to have often delays the appearance of wrinkles.
Facial razor burn is another unique issue. It's easier to get a smooth, clean shave when the skin is smooth. Sosnick even recommends using a pre-shave oil treatment of rosemary, olive and eucalyptus oils to soften hair.
Men with oily skin and larger pores which are a breeding ground for blackheads often skip using a moisturizer because they think it will only acerbate those conditions. But cleaning this type of skin without moisturizing strips it, sending a signal to the glands to produce more oil, Teri says. The right product would be an oil-free moisturizer to stabilize the skin.
Men also seem to prefer products that go on wet but absorb quickly, while women like the feeling of an emollient, he adds.
A product such as Trifecta by Lab Series for Men, which acts as an exfoliant, moisturizer and an antioxidant, would work on women, Teri says, but it is targeted to men's problems and it fits men's scent and texture preferences.
"The industry and interest in the industry are moving quickly as men, especially younger men, are becoming more knowledgeable," says Nivea's Lair, noting men are becoming more aware of blemish formulas and sun protection.
The bar soap men used to buy just a few years ago has been replaced by a regimen that includes cleanser, moisturizer, an improved shaving cream and possibly a shaving balm, says Teri. The routine doesn't rival a woman, who typically uses 10 to 12 cosmetic and beauty products, but it's a growing market.
Under-arm protection
Either anti-perspirant or deodorant is another must-have item for most men. The strength of both the wetness and odor protection of the product has to be higher for men than women because men's underarm hair collects perspiration, which harbors bacteria and odor, Teri explains.
Aluminum chlorohydrate, the active ingredient in most anti-perspirants, slows the sweat, he says. Stopping perspiration altogether by clogging pores wouldn't be desirable.
Teri says Aramis' new "24-hour" formula has encapsulated fragrance microbeads that are regulated by body heat, essentially releasing deodorizer as the body needs it over the course of a day.
Fewer ingredients needed
Hairstylist Frederic Fekkai is introducing a hair-care line that features a spicier scent, thanks to rosemary and sage notes, and thickening agents in the shampoo, conditioner and grooming clay. "Thinning hair is what most men worry about," says Fekkai.
But, adds John Allen, founder of John Allen's Clubs (he doesn't call them salons), men don't need some of the extra ingredients in shampoos and conditioners that are primarily for women because a man's hair isn't as processed.
While many women fight the thin, dry hair that comes from coloring and blow-drying, men naturally have a coarser texture, which requires different botanicals as treatment, says Allen. He suggests hair products with nettle for bonding and thickening, and vitamins B and E, which are strengtheners.
Copyright 2018 The Associated Press. All rights reserved. This material may not be published, broadcast, rewritten or redistributed. We strive to uphold our values for every story published.