I come to bury "Ally McBeal" (8 p.m., Fox), not to praise her. I never liked this show. I understood its popularity and appeal, but I always found Ally's smug combination of self-righteousness and self-indulgence hard to take. In the show's very first episode, she described herself as a "victim of her own choices." This, coming from a woman who had just graduated from Harvard Law School.
For all of its cartoon silliness, "Ally" presented images and ideas that I found more than merely annoying. Cage's quirky Barry White fixation hearkened back to ancient, stupid stereotypes about libidinous black Lotharios who serve as erotic mentors for repressed white men. And there was something downright yucky about how the gang could only loosen up while watching the blond Vonda Shepard singing safe Motown hits. It's as if black people and black culture only serve as surrogate ids for uptight white people.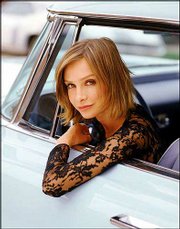 But the most annoying and demeaning aspect of "Ally McBeal" was Ally herself. For all of the show's polymorphously perverse shenanigans, it offered viewers a consistently depressing image of a single professional woman. Rather than building on such television classics as "That Girl" and "The Mary Tyler Moore Show" "Ally" presented a glossy throwback to such 1950s classics as "The Best of Everything." Its ultimate lesson? That a woman without a man is doomed to isolation, misery, and ultimately, insanity. And you wonder why I never found this show funny.
Two weeks ago, Erik Lindbergh recreated his grandfather's famous trip by flying a single engine plane solo across the Atlantic. The documentary "Lindbergh Flies Again" (8 p.m., History) presents a historical look at Charles Lindbergh's pioneering 1927 flight to Paris and documents his grandson's commemorative effort.
In the new series "Landscaper's Challenge" (7:30 p.m., HGTV) three designers compete for the same backyard project. A new variation of "Designer's Challenge" this show will air every night this week and then return to its new weekly time slot on Thursday, May 30.
Tonight's other highlights
Will Smith and Gene Hackman star in the 1998 conspiracy thriller "Enemy of the State" (7 p.m., ABC).
Ray and Debra recall their first intimate moment on the season finale of "Everybody Loves Raymond" (8 p.m., CBS).
| | | |
| --- | --- | --- |
| | | |
| | Kansas University alumnus Mike Robe is the director for "Scared Silent," which will be broadcast at 8 p.m today on Lifetime. The film tells the true story of four small-town women who put their rapist behind bars. | |
| | | |
Women victims try to put their rapist behind bars in the 2002 drama "Scared Silent" (8 p.m., Lifetime) starring Penelope Ann Miller.
The Peacock network shows off its Thursday night hits on a Monday night on "20 Years of Must See TV" (8:30 p.m., NBC).
Ted Koppel plays hosts to a five-part look at gay life in America on "Nightline" (10:30 p.m., ABC).
Copyright 2017 The Lawrence Journal-World. All rights reserved. This material may not be published, broadcast, rewritten or redistributed. We strive to uphold our values for every story published.