Dili, East Timor — Armanda Andrade has just come home after three years in exile. Her seven children are covered in sores brought on by impoverished life in a refugee camp. The country she has returned to is one of the world's poorest.
Now, as East Timor prepares for independence this weekend, she says it's a time for hope.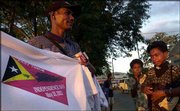 "We don't have to be scared anymore. We don't have to run," Andrade said Friday, squatting on the floor of a refugee reception center and quietly keeping an eye on her children.
Despair is giving way to hope and pride, yet independence raises many questions: How well can a devastated nation with a 400-year-old history of foreign domination run its own affairs? Will powerful Indonesian generals, angered over losing the territory, allow it to live in peace? Will settling old scores take precedence over nation-building?
U.N. Secretary General Kofi Annan, former President Bill Clinton and Australian Prime Minister John Howard will be among the dignitaries attending the independence celebrations.
Fireworks will go off at midnight today with the raising of the East Timorese flag.
Then East Timor's first head of state will be sworn in. He is Xanana Gusmao, a 55-year-old poet and former guerrilla leader who spent more than six years in jail and house arrest and was elected president in a U.N.-supervised vote.
The VIP likely to attract the most attention is Indonesian President Megawati Sukarnoputri, whose political career has been marked by outspoken opposition to East Timorese independence.
Her decision to attend the celebrations has drawn fierce criticism from some hard-line Indonesian lawmakers. In an apparent attempt to deflect that criticism, she will visit a cemetery containing the graves of some of the 3,000 Indonesian soldiers who died during their country's 24-year occupation of East Timor.
Connecticut-sized East Timor is a half-island with a population of 800,000.
Portugal ruled East Timor for more than 400 years until it abruptly withdrew in 1975. Indonesia, fearing a communist takeover, invaded and annexed the territory.
The United Nations has administered the territory since 1999, when a U.N.-sponsored referendum on independence resulted in a bloody rampage by pro-Jakarta militiamen who killed hundreds and destroyed most of the territory's infrastructure.
Copyright 2018 The Associated Press. All rights reserved. This material may not be published, broadcast, rewritten or redistributed. We strive to uphold our values for every story published.