Here are some plants with dark foliage or flowers that you might want to consider for your garden:
Canna Black Knight: a medium-sized canna with black and green leaves and garnet red flowers.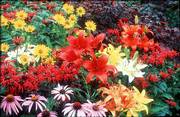 Canna Red Wine: vivid red flowers atop coal black stems and leaves.
Coleus Inky Fingers: black-leafed coleus popular for more than 30 years.
Coral Bells Bressingham Bronze: a low-growing, shade-loving perennial best known for its foliage, earning its name from its leafless stems of colorful bell-shaped florets. The dark shiny leaves make it a champ among black foliage plants in the garden.
Dahlia Bishop of Llandaff: prized for its dark mahogany foliage and garnet-red flowers.
Elephant Ear Black Magic (a.k.a. Jet Black Wonder): black leaves that unfurl to a length of 2 feet each.
Oxalis regnelli var. triangularis: a charming, low-growing mound of three- or four-leafed "clovers," with deep, dark burgundy leaves and soft pink flowers. Its close relation O. regnelli var. triangularis Mijke looks pretty much the same but with leaves that are even darker.
Persian Shield (Strobilanthes dyerianus): striking, glossy, striped dark purple leaves with colorful veining. The result is foliage that shimmers like miniature stained glass panels of maroon, blue and violet. The 28-inch tall plant is excellent in containers or a garden.
Purple Fountain Grass: forms clumps of deep purple foliage topped by fluffy light-catching grass-heads.
Copyright 2018 The Lawrence Journal-World. All rights reserved. This material may not be published, broadcast, rewritten or redistributed. We strive to uphold our values for every story published.