We gardeners may not be on the cusp of fashion, what with our ill-fitting garden gloves, smudged sun hats and dirt-caked shoes.
However, if black is in style, we are definitely in vogue. After all, we have (or strive to have) rich black compost and fertile black soil.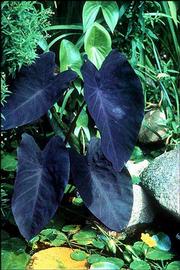 Now, as we follow the trend of adding black-foliaged plants into our gardens, we'll be even more fashionable.
The appeal of dark-foliaged plants began a decade ago with the introduction of dark-leaved coral bells (Heuchera Palace Purple).
A flurry of purply heucheras followed, creating greater interest in dark foliage.
As gardeners clamored for more, along came new bronze- and black-leaved cannas, ornamental grasses and coleuses.
The recent introduction of Colocasia esculenta Black Magic, an elephant ear plant with pitch-black leaves of enormous proportions, created another stir.
But, if my hunch is right, I'd say that it is little Ipomoea batatas Blackie, the dark-leaved, decorative sweet potato vine, that has turned American gardeners' growing interest in black foliage into a national groundswell.
Blackie's introduction a few years back was seen first by trend-spotting sources in New York City's plant district.
Before long, gardening magazines, TV shows and botanic gardens coast to coast swung a spotlight onto the dark appeal of ebony plants in the garden.
What's this you say black in the garden, not green? Yes. Gardeners are finding multiple uses for adding dark foliage plants to the garden.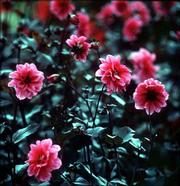 Imagine the impact of spotlighting a stunning black foliage plant.
The design element of black foliage is best used up close as an accent plant or as a design foil for highlighting other colors in the garden.
For best effect, plant swaths of black to create blocks of color. One or two small plants alone will have limited impact.
Ideally, position dark broad-leafed plants where sunlight can dance across and light them from behind.
For an elegant effect, mix dark leaves or flowers with soft pastel colors such as apricot, pink, lavender, cream or pale yellow.
For a more raucous look, use blacks to rein in the heated contrasts of exuberant yellows, reds, chartreuse, orange and orchid.
Shocking shades are nicely balanced by a judicious dose of black and purple.
Now, I doubt the fashion police will bother us just because our gloves are smudged.
After all, we are ever so chic with dark and sultry foliage plants growing in our garden.
---
Carol Boncella is education coordinator at Lawrence Memorial Hospital and home and garden writer for the Journal-World.
Copyright 2018 The Lawrence Journal-World. All rights reserved. This material may not be published, broadcast, rewritten or redistributed. We strive to uphold our values for every story published.