New York — Joe Torre gave Ted Lilly a suggestion.
"You've got to start taking these guys out to dinner," the New York Yankees manager told his young pitcher. "They're not hitting for you."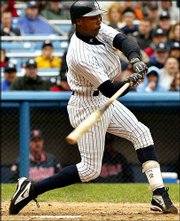 It's unclear whether Torre's words provided food for thought, but Lilly finally received some backing Saturday and earned his first win this season, 6-2, over Minnesota.
Alfonso Soriano homered for the third straight day, a tiebreaking three-run drive off Bob Wells in the sixth inning that sent the Yankees on to their 10th win in 11 games.
"Once you get on a winning pace, it's contagious," said Jason Giambi, whose dramatic 14th-inning grand slam rallied the New York to a 13-12 win Friday night.
Just 14 hours later, Soriano resumed the Bronx bombing. They have homered in 10 straight games and have 21 in their last six, raising their major league-leading total to 69.
"This is probably the deepest club I've had in the seven years I've been here, offensively," said Torre, who has led the Yankees to four World Series titles and five AL pennants.
Lilly (1-3) had gotten an average of just 2.8 runs of support in his first four outings, losing even when he pitched a one-hitter at Seattle.
The quiet 26-year-old left-hander is in the rotation because of an injury to Andy Pettitte, but his ERA, which dropped to 2.61, is the best among Yankees starters.
When Pettitte returns, Lilly could find himself back in the bullpen. He matched his season high with nine strikeouts, allowing two runs one earned and five hits in seven innings. He has 37 strikeouts in 38 innings, allowing just 22 hits and a .162 opponents' batting average.
Red Sox 4, Mariners 1
Boston Pedro Martinez improved to 10-0 in his career against Seattle, striking out nine in eight innings to lead Boston.
Martinez (6-0) couldn't have started much better, striking out the side in the first on just nine pitches. The Red Sox took a 3-0 lead for the second straight day, but this time they held it.
Ugueth Urbina pitched the ninth for his 13th save.
The Red Sox scored two runs in the first off James Baldwin (3-4).
Blue Jays 6, Athletics 3
Toronto Former Oakland prospect Eric Hinske hit a three-run homer to lead Toronto to its first series win at home this season.
Oakland has lost 12 of 15 overall and dropped six consecutive series. The Blue Jays won the first two games of three-game series.
Hinske, acquired from Oakland along with rookie starter Justin Miller (3-1) for closer Billy Koch this winter, homered off Mike Fyhrie (1-3) to give Toronto a 6-0 lead in the third inning.
Tigers 8, Rangers 7
Detroit Robert Fick hit a tiebreaking RBI single with two outs in the eighth inning to give Detroit a wild victory.
Both teams blew late-inning leads as the Tigers picked up their second win in a row after a seven-game losing streak.
Detroit trailed 7-6 heading into the eighth, but rookie Ramon Santiago drove in the tying run with his third hit of the game, then stole second and scored on Fick's single.
Rudy Seanez (0-3) took the loss for Texas, while Julio Santana (2-0) earned the win. Juan Acevedo pitched the ninth for his fifth save.
Devil Rays 5, Orioles 4
Baltimore Greg Vaughn ended a 91*2-month homerless drought, connecting twice, including a tiebreaking two-run shot in the ninth inning.
Vaughn had not homered in 222 at-bats since Aug. 5 before hitting a solo shot off Baltimore starter Sidney Ponson in the fourth. In the ninth, Vaughn connected off Jorge Julio to snap a 3-all tie.
Doug Creek (2-0) pitched a scoreless eighth. Esteban Yan earned his seventh save.
White Sox 10, Angels 4
Chicago Frank Thomas homered twice, and Paul Konerko drove in four runs as the White Sox snapped Anaheim's eight-game winning streak.
Konerko hit a solo homer, and Jose Valentin added a solo shot and a two-run triple to help the White Sox beat the Angels for the first time this season and end a five-game losing streak against Anaheim.
Gary Glover (1-0) allowed three runs and seven hits through five innings. Chicago held on by using five relievers Kelly Wunsch, Rocky Biddle, Damaso Marte, Antonio Osuna and Bob Howry.
Copyright 2018 The Associated Press. All rights reserved. This material may not be published, broadcast, rewritten or redistributed. We strive to uphold our values for every story published.