Los Angeles — Maybe Yoda should get his own "Star Wars" spinoff franchise.
The little guy proved a big hit among fans who were first in line to catch the latest chapter in George Lucas' saga, "Star Wars: Episode II Attack of the Clones."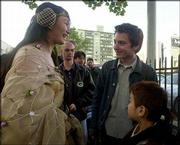 Digitally created by computer imagery to give him more mobility than the Yoda puppet of previous "Star Wars" flicks, the wizened Jedi elder gets to mix it up in a whirlwind of light-saber gymnastics during the film's climactic battles.
Steve Anderson, 32, a television director who went to a midnight screening Thursday at Universal CityWalk in Los Angeles, said Yoda's duel was his favorite scene.
"You mean this whole time he could 'unleash the dragon?"' Anderson said. "The visual effects were stunning."
Fans who found fault with the film still applauded Yoda.
The movie "was OK. The dialogue was pretty bad, but Yoda was awesome," said Andy Ellis, 24, a musician from Los Angeles.
Hard-core fans turned up in "Star Wars" outfits and staged mock light-saber battles as they waited in line for screenings that began a minute past midnight Thursday. Outside Grauman's Chinese Theatre along Hollywood Boulevard, people wore white stormtrooper armor and the bounty-hunter costume of Jango Fett and son Boba.
At a theater in Sawgrass Mills mall in Sunrise, Fla., 16-year-old Jessica Meunier dressed as Princess Leia, her hair pulled into large rolls over her ears.
"George Lucas opened up an entire genre," she said, crediting the filmmaker with raising the bar on sound and special effects. "What I also love is it just brings out people from all age groups, the old and the young."
With the midnight fervor of diehard fans behind them, theaters braced for the real onslaught as general audiences massed for "Attack of the Clones." Show times began at 10 a.m. at many cinemas, and some theaters had "Star Wars" screenings starting every half hour.
Many people took the day off from work or school to see "Episode II." Retail salesman Robert Benjamin, 32, and his friend Sami Zodo, 32, a bank manager, scheduled the day off to see "Attack of the Clones" at the first morning screening at the Grove Stadium theater in Los Angeles.
They deliberately avoided reading reviews.
"I didn't want to know any details about the story line," Benjamin said. "I wanted the whole thing to be a surprise when I saw it."
After seeing the film projected on film, Benjamin, Zodo and some friends also had tickets for a Thursday night show to watch it projected digitally, Lucas' preferred method.
Lucas shot the film on digital cameras instead of using traditional celluloid.
"I just want to see the whole visual difference between the two," Zodo said. "Get the best of the best and see if the digital version looks better."
Distributor 20th Century Fox plans to release first-day box-office figures for "Attack of the Clones" today. Though Lucas said he was not expecting to break opening-weekend records, Hollywood analysts will be watching how the venerable franchise stacks up against new film series such as "Spider-Man" and "Harry Potter and the Sorcerer's Stone."
"Spider-Man" had a record opening weekend of $114.8 million this month, dashing the previous best of $90.3 million set by "Harry Potter" last fall.
"Attack of the Clones" premiered on about 6,000 theater screens, 1,500 fewer than "Spider-Man" and 2,200 fewer than "Harry Potter." Lucas was picky about what theaters it would play in, insisting on top-shelf locations with digital sound.
Copyright 2018 The Lawrence Journal-World. All rights reserved. This material may not be published, broadcast, rewritten or redistributed. We strive to uphold our values for every story published.