Kansas City, Mo — The Minnesota Twins wish they didn't have to wait until August to return to Kansas City.
Torii Hunter homered twice and Minnesota hit five home runs at Kauffman Stadium for the second time this season as the Twins routed the Royals, 14-5, Thursday.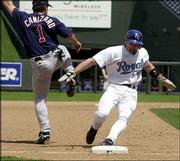 "I like this park. I love it," said Hunter, who was 4-for-6 with four RBIs and three runs scored. "You've got to hate it that we don't come back till August."
Five of the Twins' nine road wins have come in Kansas City and they have 16 homers in 11 games against the Royals.
Jacque Jones, Cristian Guzman and Tom Prince also homered for the Twins, who added five doubles to set season highs in runs and hits (18).
"This is a beautiful ballpark," Minnesota manager Ron Gardenhire said. "I guess we just see the ball well in this park."
In an 8-6 victory on opening day, Jones hit two home runs while David Ortiz, Brian Buchanan and Hunter all had one. Jones has five of his eight homers in Kansas City.
"There's not too many times we're going to blow the Royals out," Hunter said. "Today it was just one of those days where we had the whupping sticks and we hit the ball in all the right places."
The Royals lost three of four to the Twins and dropped to 0-2 under new manager Tony Pena.
"I'm not going to get my head down," Pena said. "I told my players this is one bad day, a really, really bad day. If you're going to lose a game, I would rather lose that way. I don't want to lose a game by one run."
Hunter hit a solo homer off Chris George (0-4) in the first and a three-run shot off Brian Shouse in the seventh. Hunter has 11 homers this season and two career multihomer games.
Jones homered off Miguel Asencio in the fourth. Guzman and Prince, who had three RBIs, connected off Asencio in the sixth.
Kyle Lohse (3-2) went five innings for the victory, allowing three runs one earned four hits and five walks.
Jay Canizaro and Denny Hocking had RBI doubles in the second and Prince hit an RBI groundout.
The Royals scored three in the fifth on Michael Tucker's two-run single and an RBI single by Carlos Beltran.
In the seventh, Prince and Jones had RBI singles ahead of Hunter's three-run shot. It was the third career four-hit game for Hunter.
George allowed six runs and seven hits in just three innings.
"I threw my fastballs over the plate and they missed them in the first inning, but they didn't miss them in the second and third," George said.
Brandon Berger hit a two-run homer in the ninth for the Royals.
Notes: Chuck Knoblauch stole his 400th career base in the fifth inning but should have been out. Lohse caught him breaking for third before he went into his delivery, but his throw to Canizaro was high. A moment later, Lohse caught Neifi Perez straying too far off first, but waited too long to throw to first baseman Bobby Kielty. Both runners later scored. ... Minnesota 1B Doug Mientkiewicz returned home and met with a hand specialist, who gave him an injection. He re-aggravated a sore wrist Wednesday. Gardenhire said he would probably miss the weekend series at New York. ... The Twins' previous highs were 13 runs and 16 hits against Detroit on April 14. ... The 14 runs allowed matched a season high and the 18 hits were a season high for the Royals.
Copyright 2018 The Associated Press. All rights reserved. This material may not be published, broadcast, rewritten or redistributed. We strive to uphold our values for every story published.