Boston — Barry Zito didn't hear his teammates getting dressed down by Oakland manager Art Howe. Zito had his own start to worry about.
Zito pitched five-hit ball for eight innings as the Athletics beat the Boston Red Sox, 5-0, Thursday night to win for just the third time in 13 games.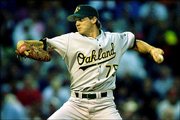 Following Wednesday's loss, Howe sent a message to his team about its recent play that he said was received "loud and clear."
Howe went on to say his team had a "poor performance" and he "let them know it."
Zito, though, was absent, sitting in the dugout following the loss, caught in his own thoughts while staring at the field.
"To be honest with you, I wasn't here for the meeting," Zito said. "I was down in the dugout visualizing what I was going to do. But that was what we needed. We needed to get aired out a little."
Jermaine Dye hit a two-run double for Oakland, which avoided being swept by Boston for the second week in a row.
"A great performance by Mr. Zito," Howe said. "We played like we were capable of playing. I was pleased by the outcome, obviously. The effort we gave is what we need to give every night."
The Red Sox lost for just the third time in 11 games. They entered with an AL-leading .303 average.
But Zito, who turned 24 Monday, made the Boston offense look bad.
Zito (4-2) struck out six and did not walk a batter. He improved to 4-0 when pitching after an Oakland loss.
"In a game like this, I knew Boston was going well so I came in with a little more fire," Zito said.
Billy Koch finished the seven-hitter for Oakland's second shutout of the year.
Boston was blanked for the first time since Mike Mussina came within one strike of a perfect game last Sept. 2 at Fenway Park in the New York Yankees' 1-0 win.
Oakland entered the day in last place in the AL West for the first time since May 7 of last season.
The A's, who started last May similar to this season, relied on Zito to get them started in the right direction.
"He wasn't on his best stuff tonight," said Boston's Johnny Damon, who played with Zito and the A's last season. "When he is, he's the best left-hander in the league."
The A's took a 3-0 lead against Frank Castillo (2-4) in the first inning. Eric Byrnes and Randy Velarde opened the game with back-to-back singles, and Eric Chavez walked to load the bases.
Dye hit a two-run double, and Chavez scored on a groundout by Miguel Tejada.
"It was the kind of lead they needed early with (Zito) on the mound," Boston catcher Jason Varitek said.
Byrnes had a career-high three hits.
Castillo lost for the fourth time in five starts. He went six innings, giving up three runs on six hits and five walks. The right-hander got out of a bases-loaded jam in the fifth to keep his team in the game, getting Tejada on a flyball to right field.
Oakland added two runs in the seventh inning off reliever Tim Wakefield on Chavez's RBI double and Terrence Long's run-scoring single.
"We ran into a hornet's nest out there," Boston manager Grady Little said. "The kid pitched a great game."
Yankees 13, Devil Rays 0
New York Alfonso Soriano hit a leadoff home run on the first pitch, giving David Wells all the support he needed as New York overwhelmed Tampa Bay. With Wells (6-1) pitching a three-hitter, the Yankees posted their most lopsided shutout since beating Toronto 15-0 on Sept. 25, 1977. Wells walked none and struck out six in his 11th career shutout, and first since 2000.
Jorge Posada, Nick Johnson and Bernie Williams kept up the early home-run barrage. The Yankees lead the majors with 62 homers, including 14 in four games.
A night after Tampa Bay got six runs in the top of the first, the Yankees scored six times in the bottom half. Tampa Bay hurt itself, tying a team record by making three errors in the inning.
White Sox 4, Rangers 0
Chicago Dan Wright pitched a five-hitter for his first career shutout and Chicago beat Texas. Wright (4-4), who allowed eight runs in 22/3 innings in his last start against Anaheim, was sharp against the Rangers. He struck out four and walked one in his 21st career start.
Wright struck out Alex Rodriguez to end Chicago's second shutout of the season. The Rangers have been blanked just twice.
Mariners 15, Blue Jays 2
Toronto Mike Cameron hit a grand slam, and Mark McLemore went 5-for-5 as Seattle defeated Toronto. Cameron's home run was his first since he tied a major league record by hitting four on May 2 against the Chicago White Sox.
McLemore's five hits matched a franchise record and equaled his career high. He hit a three-run homer and also walked as the Mariners improved to a major-league best 16-3 on the road. Seattle has won 10 of 13 overall.
Copyright 2018 The Associated Press. All rights reserved. This material may not be published, broadcast, rewritten or redistributed. We strive to uphold our values for every story published.