SACRAMENTO, CALIF. — Before the Sacramento Kings' first practice for the Western Conference finals on Thursday, vice president Geoff Petrie had a message for the team he built expressly for the challenge of the coming days.
Petrie addresses the Kings only a handful of times each season, and he kept these remarks brief. He spoke of respect for the Los Angeles Lakers and his belief in the Kings' ability to shock them.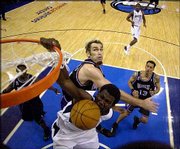 "The word Geoff used was that the integrity of their competitiveness is already proven, because they've won two championships," forward Chris Webber said. "We have to prove that we're on their level."
While preparing for the biggest series of their careers which begins Saturday, the Kings have said all the proper, deferential things about the Lakers well, except Webber's tongue-in-cheek dismissal of trash-talking Lakers benchwarmer Samaki Walker on Thursday.
In 2000, the Lakers won a tough five-game victory over Sacramento in the first round; last season, it was a powerful sweep in the second round, punctuated by Bryant's 48-point performance at Arco Arena in the clincher.
"Once again, here comes the truth. They can't run from the truth," Los Angeles forward Rick Fox said Thursday. "The truth is what has happened in the past is a characteristic of theirs. They have to change that."
With 22 victories in their last 24 playoff games, Los Angeles has toyed with the rest of the league while rolling 10 straight series victories a mind-boggling 22 in all for coach Phil Jackson dating to 1995 with Chicago.
"They're much more poised (than last year)," Jackson said. "They expected themselves to be where they are.
"That gives us respect for them. It's a good challenge for us."
The Kings put one element in their favor when they edged Los Angeles for the NBA's best regular-season record. That puts the series' first two games and a potential Game 7 in Arco.
Not that home court has mattered recently: The Lakers have won three of their last four games at Arco, and they've won an NBA-record 11 straight road playoff games.
"I think we're a better team when it's us against the world," O'Neal said. "We're a pretty good road team."
Copyright 2018 The Associated Press. All rights reserved. This material may not be published, broadcast, rewritten or redistributed. We strive to uphold our values for every story published.