Wichita — A USAir Express turboprop plane carrying 16 people landed safely Thursday at Mid-Continent Airport after its nose wheel locked in a half-open position.
The Beech 1900 aircraft came down gently about 1:30 p.m., although the nose gear partially collapsed.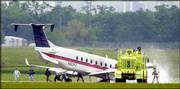 "This pilot did a beautiful, beautiful job of putting this airplane on the runway," airport director Bailiss Bell said.
An early report of a female passenger receiving minor injuries was likely due to the woman's pre-existing bad back, Bell said.
Flight 5641 had just taken off from Kansas City, Mo., for a flight to Manhattan and then on to Salina, Bell said, when the flight crew noticed that the nose wheel had not retracted fully but was locked in a 45-degree position.
Because USAir Express is affiliated with Air Midwest, which has a Wichita maintenance facility, the crew routed the flight to Mid-Continent Airport, Bell said.
The craft circled Mid-Continent to give the control tower crew a chance to visually inspect the landing gear, Bell said, after which the decision was made to proceed with the landing.
The pilot shut down the engines before landing so that the propeller blades would not gouge the runway and break apart, Bell said.
There was no immediate explanation for why the nose wheel became locked.
One runway was closed for 90 minutes, Bell said, but there were no other interruptions.
Copyright 2018 The Associated Press. All rights reserved. This material may not be published, broadcast, rewritten or redistributed. We strive to uphold our values for every story published.