Baltimore — Harlan's Holiday has one overriding mission Saturday: salvage his reputation.
The 3-year-old is known as the horse that finished seventh as the Kentucky Derby favorite. The objective is to change that label to Preakness champion.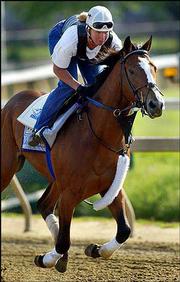 "We have a very nice horse here and it's doing very well," trainer Ken McPeek said. "I do think we have a chance to redeem ourselves."
History is on their side. Eight of the last 18 Preakness winners finished fifth or worse in the Derby, and 11 of the last 25 beaten Derby favorites rebounded with a victory at Pimlico Race Course.
Harlan's Holiday went off at 6-1 in the Derby, the longest odds for a favorite in the history of the race. The horse was never a factor at Churchill Downs, running a race under jockey Edgar Prado that was as perplexing as it was disappointing.
"You can make all kinds of excuses, but we did get beat, so it's on to the next one," owner Jack Wolf said. "It's going to be interesting to see how he bounces back from his worst race."
It was the first time in 11 career starts that Harlan's Holiday failed to finish first or second.
"Edgar said he just didn't have the normal Harlan underneath him that day," Wolf said. "I don't know any horses that can talk, so I don't really know the answer."
This much he does know: Harlan's Holiday is healthy enough to try to make amends for his poor showing in the Derby.
"He's come out well and trained well," Wolf said. "We considered giving him some time off after the Derby, but we really wanted to come here and see if we could do something. From the get-go, we thought this would be the race that would suit our horse best as far as his riding style and the way the track is."
Harlan's Holiday earned the favorite's role in Kentucky by winning the Florida Derby and the Blue Grass Stakes. Given those impressive victories, there was no reason to think he would come up flat at Churchill Downs. But the horse never threatened, breaking in back of the pack and never advancing beyond sixth place.
Copyright 2018 The Associated Press. All rights reserved. This material may not be published, broadcast, rewritten or redistributed. We strive to uphold our values for every story published.