EAST RUTHERFORD, N.J. — Game 1 of the Eastern Conference finals was still 72 hours away Thursday when the Nets broke practice, yet the war of words already had begun..
"I don't think anybody on that team can defend me," Celtics guard Paul Pierce said of the Nets after a morning practice.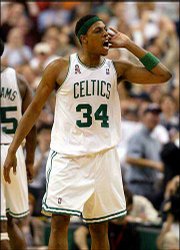 "That's talking again, man," Kenyon Martin responded after his team's late afternoon film session. "That's what gets people in trouble when they run their mouth. If that's the way he feels, oh well, OK, what0ever. I'm not going to go back and forth with the words. I'm not doing it. It's basketball, man. It's a team thing. It's not about whether one person can stop him or not."
So here we go again.
Pierce assumes the role Indiana's Jermaine O'Neal played in the first round by chirping about the lack of respect he thought the Nets had for him and his team.
Martin and his teammates, meanwhile, listen, laugh, and try to move on.
Pierce, for the record, merely averaged 37 points against the Nets in four regular-season games, so Nets coach Byron Scott acknowledged, "The numbers right now would support (Pierce's words)."
Beneath the smile with which he said that, though, is also a coach who, the last time the teams met during the regular season, flung some trash talk Antoine Walker's way when he said, "He hasn't done anything in this league. He hasn't proven anything."
He backed off that, since Walker has reached the same place the Nets have, but of Pierce's numbers he said, "That's regular season. Regular season's over with. This is a different story."
Whether it's Martin, someone else, or everyone on the floor, they intend to follow a different script against Pierce and Walker, the second most productive pair in the league behind a couple of guys known as Kobe and Shaq.
"We'll find out," Jason Kidd said of Pierce's proclamation less than 24 hours after his latest round of heroics in Wednesday's 103-95 series-clinching victory over Charlotte. "There are going to be guys that are going to have to step up to that challenge. He is a talented guy and he might be right."
Kidd, though, is one of several Nets who could take a turn on Pierce in a series that should feature extensive defensive cross-matching because of the Celtics' odd makeup. Pierce, for instance, is a shooting guard who is the Celtics' best post-up player. Walker is a power forward who launched the most three-point attempts in the league (645, almost eight per game).
The Celtics also are "more of a finesse team" than the Hornets, Scott said, that runs their offense from the outside-in, instead of the traditional inside-out. On the break, for instance, Scott said that instead of the standard running back to cut off layups, his team's transition defense has to guard the three-point line first because of the way the Celtics play.
Still Pierce, who finished eighth in the league with 25.3 points per game to Walker's 20.5, presents the biggest challenge for a team that he officially challenged Thursday.
"There's nobody on our team who is going to stop Paul Pierce one-on-one," Scott said. "He's going to score. He's that good. I don't care. Even as good a defensive player as Kenyon is, Paul's still going to score. Same thing with Antoine Walker.
"But we have to, obviously, limit those two guys from having big nights. We have to be aggressive on those guys and we have to make sure they have to work for everything they get."
That is why he and his staff have conjured up "three or four different ways to try to guard these guys," he said. "Probably all three or four of them will have to be put into place somewhere down the line. Against them it's not going to be conventional. You're going to have to try to come up with some things to try to take the ball out of these guys' hands as much as possible and force other guys to beat you."
If that doesn't work, he's prepared to trot out the "no respect" angle he and his players say they already feel and to which Pierce's remark added more fuel.
"I guess everybody said that Indiana was going to beat us and that Charlotte was going to beat us," Martin said. "I guess everybody is saying Boston is going to beat us too. Well everybody that said was going to beat us, where are they now?
"I guess we'll be the underdog again probably. I guess that will give us a little more motivation. We're looking forward to Sunday."
Copyright 2017 The Lawrence Journal-World. All rights reserved. This material may not be published, broadcast, rewritten or redistributed. We strive to uphold our values for every story published.