Havana — Former President Jimmy Carter, who has already given Cuban dissidents as much domestic publicity as they have ever had, met Thursday with 23 government opponents and urged them to work together, the activists said.
Carter "recommended unity among us, that we in the opposition join together," said Julio Ruiz Pitaluga, 76, who spent 23 years behind bars as a political prisoner.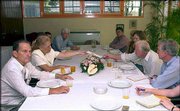 Cuba's dissidents are united only by their problems with the Cuban government and don't agree on the reform referendum that Carter mentioned in his historic speech Tuesday night, the Varela Project.
Government opponents include free-market advocates, unhappy socialists, human rights and religious activists, former prisoners of conscience and heads of political parties unrecognized by Cuba's one-party government.
"We repeated that Cubans themselves are the solution to the problems of the Cubans," Oswaldo Paya, a Varela Project coordinator, said after meeting with Carter in the two-story stucco residence of a U.N. official in west Havana.
Earlier, Who's Who of Cuban dissidents rolled up in vans, passing a scattering of U.S. Secret Service agents and plainclothes Cuban security men, who waited outside during the meetings.
Carter first met alone with Vladimiro Roca, who was freed May 5 after nearly five years in prison for demanding changes in Cuba's communist system. He then met separately with two larger groups.
Afterward, he was driven to a church for talks with five Catholic bishops. He had met and worshipped on Wednesday with Protestant leaders.
Paya presented Carter with a poster of the Rev. Felix Varela, the Roman Catholic priest and independence hero the proposed referendum is named for. Project organizers say they gathered 11,020 signatures for the referendum on rights including free speech and the ability to open a business.
In his nationally broadcast speech Tuesday night, Carter said the world "would look on with admiration" if Cuban leaders held a debate and national vote on the project.
Cuba's communist news media on Thursday printed Carter's comments in full giving unprecedented attention to dissidents who are generally ignored by official newspapers, radio and television.
Carter's visit was to end today.
Copyright 2018 The Associated Press. All rights reserved. This material may not be published, broadcast, rewritten or redistributed. We strive to uphold our values for every story published.