Katmandu, Nepal — It got crowded Thursday in the so-called "Death Zone" on Mount Everest, as a record 54 people stood atop the world's highest peak including a grandson of one of first two men to conquer it in 1953. The son of the other was headed for the summit on a slower route.
Basking in rare, fine weather was Tashi Wangchuk Tenzing, whose Sherpa grandfather, Tenzing Norgay, made history when he and New Zealander Sir Edmund Hillary made it to the summit 49 years ago.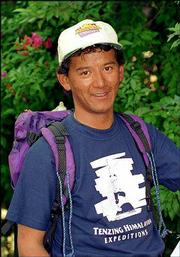 Still ascending in a separate expedition was 47-year-old Peter Hillary, who is retracing his father's original route with a National Geographic film crew.
The two men had hoped to meet on the roof of the world to begin a year of celebrations ahead of the 50th anniversary of the first successful ascent on May 29, 1953. However, Peter Hillary's route was slower and he was not among those who made it to the top Thursday. Climbers cannot stay at the summit for long, and by nightfall Tashi Wangchuk Tenzing was on his way back down.
Both men have climbed the mountain previously Tenzing in 1997 and Hillary in 1990.
Thursday was a day of record-breaking on the summit, 29,035 feet above sea level. Nepal's Tourism Ministry said climbers had broken four records, including collectively being the largest group to reach the top in a single day.
Western adventurers and Nepali Sherpa guides lined up the narrow path leading to the summit. Most reached their goal Thursday morning after leaving the last camp and trekking up the icy slopes through Wednesday night.
One of them was Appa, 43, a Sherpa who completed his 12th climb, shattering his own record set last year. He goes by only one name.
Ellen Miller, 43, of Asheville, N.C., conquered the mountain's south face, becoming the first American woman to scale its northern and southern sides. Miller climbed the north face last year.
Phil and Susan Ershler of Bellevue, Wash., became the first married couple to climb the highest peaks on each of the world's seven continents together, their spokesman, Dan McConnell, said in Washington.
The Tourism Ministry, which handles mountaineering affairs in the Himalayan kingdom, said dozens of mountaineers had taken advantage of a break in bad weather and made their final push to the summit Wednesday night. Most climbers had been boxed in either at base camp or higher level camps for days.
Everest has been climbed more than 1,000 times.
Copyright 2018 The Associated Press. All rights reserved. This material may not be published, broadcast, rewritten or redistributed. We strive to uphold our values for every story published.