Steve Gaudreau, owner of Quinton's Bar & Deli, believes downtown Lawrence is becoming more about drinking and less about eating.
He believes it so much so that he's renovating his 11-year-old business at 615 Mass. to add more bar space because he said his food sales have been steadily declining since 1998.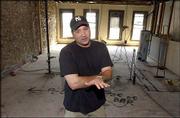 The business will continue to serve food, but Gaudreau is in the process of changing the second floor of the building from apartment space to a new 1,800-square-foot, bar-only area.
"Personally I would rather concentrate on the food business like we have in the past, but to stay in business at this location we have to take what we can get, and in downtown Lawrence that seems to be the alcohol business these days," Gaudreau said.
Gaudreau said Quinton's historically had always made about 70 percent of its sales in food and 30 percent in alcohol. But now the percentage has shifted to a 60-40 split, and he doesn't see food sales bouncing back anytime soon.
Others in the industry agree that the downtown restaurant scene has become increasingly competitive during the past several years. Steve McCoy, owner of the Paradise Cafe, said his dinner crowd had slipped by about 30 percent during the past two years.
"It absolutely has become an even tougher business than it was before," McCoy said. "I think the parking situation in downtown is still a huge factor. It would really help us all if the city ripped out these parking meters and built more spaces somewhere."
Gaudreau also thinks parking is causing part of his business' decline. But he hopes the bar strategy successfully will combat the parking challenges because he said college students seem much more willing to walk to a bar than diners are to walk to a restaurant.
Parking isn't the only issue though. Gaudreau said businesses were feeling the effects of a rapidly growing restaurant industry.
"When I started here over 10 years ago, Sixth (Street) and Wakarusa (Drive) wasn't anything, and really the only restaurant on South Iowa Street was Molly McGee's," Gaudreau said. "Now look at it. It just seems like the number of restaurants is growing at a way faster rate than the population."
Bob Schumm, owner of Buffalo Bob's Smokehouse and Mass. Street Deli, said the growth in the number of restaurants, rather than parking, was the real issue.
"There are just way too many restaurants right now," said Schumm, who has been operating restaurants in downtown for 32 years. "We have super saturation right now."
"I think you'll see more restaurants making changes to get their revenues where they need to be."
Gaudreau is projecting Quinton's expansion will add at least $12,000 a month in sales to his business.
"We're going to try to make it a place where both the college students and nonstudents will feel comfortable to come and drink," Gaudreau said. "We're going to keep the wood floors, and expose the old wooden beams and rock walls.
"Hopefully it will cater a little more to the upscale drinker because I've never really wanted to be in the traditional bar business, but it seems like downtown is going a little more that way."
Quinton's is able to expand its bar business without violating city regulations requiring 55 percent food sales for downtown restaurants that sell alcohol. That's because the business was established before the law went into effect in 1994.
Gaudreau expects to have the expansion open by early August.
Copyright 2018 The Lawrence Journal-World. All rights reserved. This material may not be published, broadcast, rewritten or redistributed. We strive to uphold our values for every story published.