The 10 high school seniors have impeccable grades and imposing standardized test scores.
Many are as comfortable on an athletic field as a concert stage.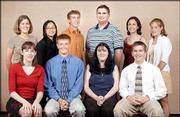 Each is a dedicated community volunteer.
And all are members of the 2002 Journal-World Academic All-Star team.
Kathleen McCluskey-Fawcett, an All-Star team judge and interim dean of the College of Liberal Arts and Sciences at Kansas University, said she was impressed with how the 2002 All-Stars juggled academic, extracurricular activities and volunteerism.
And, she said, these high school students did more than participate. They pushed the envelope.
"For me, it was how well-rounded they were," she said. "They weren't just talented in one thing."
The winners: Patrick Bengtson, Julie Gegenheimer and Leslie Short of Lawrence High School; Lynn Feng, Catherine Kelly and Micah Salkind of Free State High School; Katrina Cook of McLouth High School, Bryce Huschka of Ottawa High School, Bryan Gurss of Tonganoxie High School and Amanda Pearce of Wellsville High School.
The Journal-World has sponsored the program for six years. Winners received a backpack to use in college and gift certificates. Students and their parents also were guests at a luncheon last week.
As in the past, students were nominated by administrators at area schools. There were more than 30 nominees. A three-judge panel based its selections on academics, extracurricular activities and community involvement.
It was students' intense interest in community service that struck contest judge Earl Kirk, associate dean of arts and sciences at Baker University in Baldwin. It's comforting to see youth seriously attach themselves to community-building organizations, he said.
"The out-of-school commitment churches, a food kitchen, much more everybody has significant involvement," he said.
The pool of applicants wasn't easy to trim, said judge Angela Lumpkin, dean of the School of Education at KU.
"The approximately 30 students were absolutely remarkable. Phenomenal quality of accomplishments," she said.
Lumpkin said the teen-agers had great opportunities to make a difference in society. Five plan to enroll at universities in Kansas, including three at KU. The other All-Stars are scattering to Yale, Brown, Wake Forest and Washington University in St. Louis.
Asked to look into the crystal ball of life, the winners see themselves as biologists, engineers, politicians, educators, writers and diplomats. Time will tell, but Lumpkin is convinced the students will have their day in the spotlight.
"You never know sometimes the difference you're going to make," she said.
Copyright 2018 The Lawrence Journal-World. All rights reserved. This material may not be published, broadcast, rewritten or redistributed. We strive to uphold our values for every story published.