Most of the furniture designs that were popular in the United States in the 18th and 19th centuries are well-known today. The designs include Queen Anne, Chippendale, Sheraton, Federal and Victorian.
Many collectors and decorators are unfamiliar with some of the lesser-known styles that were popular just after the Centennial Exposition of 1876. Furniture and decorative pieces from countries all over the world were exhibited at the well-attended event in Philadelphia. One of the most important new decorating ideas was discovered at the Chinese and Japanese exhibits. These countries and their cultures were almost unknown here at that time.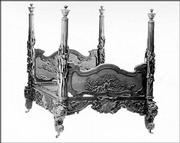 Also, elaborate Victorian furniture was popular in America, but the French Art Nouveau styles, influential in Europe, were almost unnoticed by furniture makers here. In the United States, the glass of Tiffany, the silver of Gorham and thousands of imported bentwood pieces were the main examples of Art Nouveau in America.
Besides French Art Nouveau and adaptations of Asian furniture, two other styles were soon popular in America: simple, sturdy Arts & Crafts and Colonial Revival. Painted and inlaid furniture, pieces made of bamboo or rattan, Windsor chairs and even rustic chairs made from twigs bark and all were also popular.
My antique farm tool has a seat and pedals, but it doesn't move. A bin sits on the front, and the machinery inside slices something that slides out chutes on both sides. The bin is embossed "Bucher and Gibbs Plow Co., Canton, O." Can you tell me what this contraption is and what it's worth?
Your farm tool was made about 100 years ago. It was used to cut seed potatoes into pieces before planting. Farmers now use more sophisticated potato cutters. The newest kind is laser-operated. Your antique potato cutter is valued at more than $4,000 if it is in good condition.
When I was born in 1957, I received a sterling-silver spoon that also can be used as a straw. The handle is hollow. The only mark on it is "Sterling." Can you give me any information on this hybrid kind of spoon?
Your spoon is usually called a "straw spoon." The spoon's bowl can be used to stir a drink, and the handle serves as a straw for drinking. These spoons were meant to be used, not displayed. Straw spoons date back to 18th-century Holland, where they were used with brandy or punch. Gorham Silver Co. has made these spoons, advertising that they can be used for iced tea, iced coffee or lemonade.
We recently bought a 63-piece set of Limoges dinnerware. The plates are white with a scalloped edge, a gold border and a starburst center pattern. The plates are identical, but the marks on the backs vary. All of the plates are marked with a black or dark-green seven-pointed star. Inside the star, the word "Limoges" surrounds a small circle. "Limoges" is also printed above the star, and "France" below it. In addition to that mark, some plates have a green logo that reads "Blake & Henderson, Limoges, France." Other plates are stamped with a green double circle enclosing the mark "LS & S, Limoges." Why are there different marks? How old is the set?
The star mark was used by the Coiffe factory of Limoges after 1891 until 1914. Coiffe worked from the 1870s to the mid-1920s. The firm produced large quantities of high-quality china. Much of it was exported to the United States by other companies including the two whose marks are on your plates. The first mark is actually "Blakeman & Henderson," a French exporting company that purchased dishes from Coiffe. The "LS & S" mark was used by Lewis Straus & Sons, an exporter based in New York. Some dishes made by Coiffe were decorated by other Limoges firms or were shipped blank to the United States and decorated here. Dishes with both the Coiffe mark and the mark of an exporter were probably decorated by artists at the Coiffe factory.
Tip
Don't use a mechanical buffer to clean old silver or pewter. The heat causes a change in the surface metals and alters the color.
The Kovels answer as many questions as possible through the column. By sending a letter with a question, you give full permission for its use in the column or any other Kovel forum. Names and addresses will not be published. We cannot guarantee the return of any photograph, but if a stamped envelope is included, we will try. The volume of mail makes personal answers or appraisals impossible. Write to Kovels, Lawrence Journal-World, King Features Syndicate, 888 Seventh Ave., New York, N.Y. 10019.
Copyright 2018 The Lawrence Journal-World. All rights reserved. This material may not be published, broadcast, rewritten or redistributed. We strive to uphold our values for every story published.