Whew the taxes are done. Once you've filed, though, the tedium isn't over. You're left with a desk full of papers and receipts, wondering which you should save and which you can trash.
Financial records are tricky. If you've got shoeboxes overflowing with sales slips and a closet full of old phone bills, you're saving way too much.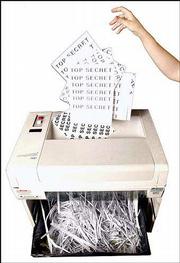 We talked to Glen Mayers of Kiplinger's Personal Finance magazine, a definitive source for all things, well, personal and financial. Mayers gave us the lowdown on how long those records need to hang around your file box.
What to shred
Returned checks. A lot of banks don't even return processed checks these days you usually don't need them back. If you need proof of payment, the bank can supply a record of your check, so don't take up storage space with bundles of old checks.
Paycheck stubs. No need to file away your weekly or monthly pay stubs to keep up with your earnings. That's what your W-2 form is for. Keep the W-2 form, and you've got a government document that records your annual income everything you need, on one piece of paper.
Old bills. There's no need to keep utility and credit-card statements from five years ago. As long as there's no dispute about payment, you can toss most bills as soon as your check clears the bank. The companies you're paying keep records of all this stuff.
Now, there are some exceptions. If there's a deductible item on your credit-card statement, hang on to it for six years to keep the IRS happy. And if you've had a billing dispute, keep bills from that company for a while so you can monitor any irregularities.
Everyday receipts. You can keep receipts for ATM withdrawals and credit-card purchases until the monthly statement arrives, but stick them in the shredder after that.
What to keep
Tax returns. The IRS has three years to audit your tax returns, so keep those (and all canceled checks for deductible items) for at least that long.
But that's only if you're generally honest. The Feds have six years to audit if they find irregularities (for example, if you didn't report a quarter of your income), and they can go back as far as they like if they suspect fraud or if you didn't file. We're not asking for a show of hands just hang on to your records if you think they might come for you.
Also: When something big happens say, you buy or sell a house hold onto those tax returns indefinitely.
Housing records. For as long as you own your house, keep mortgage papers, home improvement receipts, title papers and deeds, and other information related to the purchase of your home.
Records from other major purchases. If you buy a car, keep all the related financial information for as long as you own that car. Once you've sold the car, though, you no longer need things like the title information and the monthly statements. Shred 'em.
For purchases of appliances such as refrigerators, you probably need to keep the receipt because of a warranty. After the warranty runs out, the receipt is pretty much worthless.
Investment records. With investments come a lot of paperwork. You probably get a monthly statement that tracks the progress of, say, your mutual fund. You don't need to keep these. Do keep the yearend statements, though, for as long as you own the asset. And if you're earning money on an investment, you'll get a statement from your broker that shows how much interest you've earned. Keep those like your W-2 forms for three to six years.
Insurance records. Keep your insurance policies as long as they're in effect. And consider storing the really important ones such as life insurance in a bank safe-deposit box.
Copyright 2018 The Lawrence Journal-World. All rights reserved. This material may not be published, broadcast, rewritten or redistributed. We strive to uphold our values for every story published.