Omaha, Neb. — Rural carriers planned to deliver mail as scheduled today despite the discovery of 14 mailbox pipe bombs across the Midwest in recent days, authorities said Sunday.
But postal officials warned customers that the doors of roadside mailboxes must be kept open. Affected are customers in Nebraska, Iowa and northwest Illinois.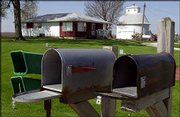 "We are instructing our carriers not to deliver to any closed receptacles," Mike Matuzek, U.S. Postal Service district manager for Nebraska and southwest Iowa, said Sunday.
Locked mailboxes, like those at apartment complexes and neighborhood delivery units, will have normal delivery, he said.
Matuzek called it a temporary precaution while the investigation continues. "It is deplorable," he said. "It brings a lot of innocent people into the fray of this thing where they really don't belong."
An 18-year-old man was arrested Sunday night in St. Paul after at least one of two suspicious devices found in mailboxes in Nebraska on Sunday was determined to be a prank, the U.S. Postal Service said.
Roger Humphries, a postal service spokesman, declined to describe the latest devices.
Officials on Sunday renewed pleas that whoever planted the bombs contact them and make their grievances clear.
"I hope whoever is responsible would respond," said Thayer County Sheriff David Lee, whose department received a call on one bomb found in a rural mailbox Saturday near Davenport.
The FBI also was posting a letter on the Internet that had been found with some of the devices on its Web site www.fbi.gov and the postal service Web site at www.usps.com.
"The public is invited to view the letter, which may be recognizable to someone," the FBI said in a news release.
| | | |
| --- | --- | --- |
| | | |
| | Douglas County Sheriff Rick Trapp said Sunday that no incidents of mail-box tampering or pipe bombs had been reported in the Lawrence-Douglas County area. He cautioned that if residents, particularly in rural areas, found anything suspicious about their mailboxes or saw suspicious persons near them, to not touch the mailbox and call 911 immediately. | |
| | | |
Six people were injured by explosions in Illinois and Iowa on Friday. None of the six bombs found Saturday in rural areas of Nebraska went off. They were later detonated harmlessly by authorities.
Among the six people injured Friday, only a 61-year-old woman remained hospitalized Sunday. Doris Zimmerman, who lives near Anamosa, Iowa, was listed in fair condition.
Copyright 2018 The Associated Press. All rights reserved. This material may not be published, broadcast, rewritten or redistributed. We strive to uphold our values for every story published.