Louisville, Ky. — Now that he's won the Kentucky Derby with War Emblem, trainer Bob Baffert is looking ahead.
Sort of.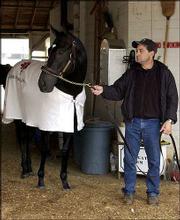 "I got the Derby," he said Sunday morning outside Barn 33, barely 12 hours after his 20-1 long shot went wire-to-wire to win Derby. "Triple Crown? You get it, you get it. I'm not going to worry about it. We got the Derby."
Next up is the Preakness on May 18, and War Emblem will be there. The dark bay colt who was bought for Baffert three weeks ago is likely to be favored in what's shaping up as a full field of 14 3-year-olds going 1 3-16th miles.
While overlooked by bettors in the Derby, War Emblem will receive plenty of attention when he arrives at Pimlico. At Churchill Downs, Baffert was able to keep a low profile because he usually has one of the favorites.
"We didn't want anybody to really think he was a contender," Baffert said, smiling. "Now, the cat's out of the bag."
Perhaps Baffert was lying low because of the criticism he's received since Saudi Prince Ahmed Salman paid $1 million to buy War Emblem after the colt won the Illinois Derby.
"I think a lot of people just thought, 'What gives him the right to buy a horse and put him in the Derby?'" Baffert said. "Well, that's my job. If it wasn't me, somebody would have bought him. I was really the first one to get to him."
The victory at Churchill Downs was Baffert's third in the last six Derbys; he won with Silver Charm in 1997 and Real Quiet in 1998.
Most of the horses War Emblem beat on Saturday are passing up the Preakness. It looks like only two other Derby horses runner-up Proud Citizen, trained by D. Wayne Lukas, and fourth-place finisher Medaglia d'Oro will move on to the second leg of the Triple Crown. Harlan's Holiday, seventh in the 18-horse field as the 6-1 favorite, is possible.
"We're planning on going," said Lukas, who also is sending Table Limit to the Preakness.
Also headed to Baltimore is Booklet, a front-runner like War Emblem. Trained by John Ward, Booklet was fourth behind Harlan's Holiday in the Blue Grass, but does own two wins over him in the Holy Bull and the Fountain of Youth.
Also planning to run are several colts who had not earned enough money to make the Derby field Sunday Break, Crimson Hero, Straight Gin and U S S Tinosa.
In addition, Easyfromthegitgo, Equality, Magic Weisner, Marasca and Stephentown are being be pointed to the Preakness.
Saarland, 10th in the Derby, suffered a bone chip in the race and was expected to have surgery.
The last full field in the Preakness was 1992.
A year ago, Baffert was singing the Derby blues after his favored Point Given was fifth behind Monarchos.
"I left here with such an empty feeling last year," Baffert said. "I was so disappointed when my horses didn't do it."
This time, he had a long shot in his barn without a top-notch resume.
"When that horse turned for home and I saw him, it was like I had that horse all my life," he said of War Emblem. "He just turned for home and it was like, 'You're winning the Derby.' Things happen for a reason. We found that horse, got lucky, got him here and nobody picked him.
"Anybody who says anything bad about him ... they didn't win any money on him. You can't knock the horse for it. You can talk about pace, but nobody was going to beat that horse."
Lukas, who has four Derby wins, agreed.
"We thought maybe he'd come back to us, but he didn't," Lukas said. "Nobody pressured him."
The Preakness may be more to War Emblem's liking it's a sixteenth-of-a-mile shorter than the Derby and the tighter turns favor speed horses.
Also celebrating War Emblem's win was former owner Russell Reineman, who is 84. He retained 10 percent ownership, and will receive a cut of the Derby winner's $875,000. War Emblem also earned a $1 million bonus from Sportsman's Park for winning a Triple Crown race after taking the Illinois Derby.
"He kept a piece in case he won the Derby," Baffert said. "He's part of it. I wish he would have been here."
After War Emblem won the Illinois Derby, Reineman declared him out of the Kentucky Derby, saying at the time that "you need to leave it to the horses that belong there, so that's probably something we don't want to do."
Baffert did, and now he's got the Derby winner who has a chance to become the first Triple Crown winner since Affirmed in 1978.
Derby Notes: War Emblem's jockey Victor Espinoza won his first Derby on his second try; he was third aboard Baffert's Congaree in 2001 ... Prince Salman became the first Arab to win the Derby, getting to the winner's circle before Dubai's Sheik Mohammed, whose Essence of Dubai finished ninth .... War Emblem's $43 win payoff for a $2 bet was the highest since Lukas' Charismatic returned $64.60 in 1999 ... War Emblem is the 22nd Derby winner to lead at each point of call during the race. Winning Colors did it last in 1988.
Copyright 2018 The Associated Press. All rights reserved. This material may not be published, broadcast, rewritten or redistributed. We strive to uphold our values for every story published.