AUBURN HILLS, MICH. — The Detroit Pistons tried their best to deflect the attention away from the obvious reasons they took a 1-0 lead in their series against Boston.
Sure, they were pleased to make a team playoff-record 12 three-pointers and were glad to remain undefeated when Cliff Robinson and Jerry Stackhouse both score at least 20 points.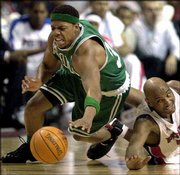 But they insisted it was all about their defense.
Robinson scored 30 points, and Stackhouse had 26 points and set career playoff highs with 11 rebounds and eight assists as Detroit beat the Boston Celtics, 96-84, on Sunday to win Game 1 in the best-of-seven second-round series.
The Pistons held Boston to 37.5-percent shooting Antoine Walker and Paul Pierce combined to shoot just 14-of-39. Walker scored 20 and Pierce was limited to 17, one game after he scored 46 in Game 5 against Philadelphia.
"It's always about our defense when we win," said Robinson, who was the lead defender against Walker and was two points shy of his best postseason performance. "We may not be able to continue shooting and scoring like this, but we have to stick with this defensive effort because defense is our staple."
Michael Curry scored a career playoff-high 15. He made just seven three-pointers during the regular season, but made three on three attempts against the Celtics on Sunday.
"Despite what we did offensively, I don't want anybody to overlook what we defensively," said Curry, who played a season-high 40 minutes to be Pierce's shadow. "That's going to be the key for us if we're going to win this series."
Pierce said his scoring was down not because of what the Pistons did, but because his aggressive teammates took some shots away. He was 7-of-17 while players such as Kenny Anderson, who scored 17, and Rodney Rogers took a combined 27 shots.
"I just didn't have the number of opportunities that I've had," said Pierce, who averaged four more shots per game against the 76ers.
The Pistons were 11-0 during the season when both Robinson and Stackhouse scored at least 20. The duo did it for the first time in the playoffs on Sunday to extend the streak.
"I think too much is made of that," said Detroit coach Rick Carlisle, who like his players, wanted to talk about the team's defensive effort.
When the Pistons made a flurry of three-pointers in the third, they essentially put Boston away.
Detroit made five three-pointers in the final 6:48 of the third, including Curry's shot as the quarter ended, to take a 78-62 lead.
With the Pistons ahead by 20 early in the fourth, Boston went on an 11-0 run to cut the deficit to 86-77 on Anderson's three-point play with 6:29 left.
Robinson's mid-range jumper put Detroit ahead 91-79 with 4:01 left. Rogers' three-pointer pulled the Celtics within seven with 2:41 to go, but they could not get closer.
Both teams were in the second round of the playoffs for the first time since shortly after their glory years, when they often met in May. Detroit and Boston split four playoff series between 1985 and '89, and last met in 1991 when the Pistons beat the Celtics in the second round.
That was the last time Detroit advanced in the playoffs, which was the season following its consecutive NBA titles. The Celtics won a playoff series for the first time since 1992, Larry Bird's last season.
The Celtics are 2-9 in their last 11 playoff games on the road.
Lakers 86, Spurs 80
Los Angeles Shaquille O'Neal scored 13 of his 23 points after returning from an injury early in the fourth quarter and had 17 rebounds as the two-time defending NBA champion Lakers continued their mastery over the Spurs to open their Western Conference semifinal series.
O'Neal missed nearly 10 minutes of Game 1 after sustaining a cut on his right index finger early in the third quarter which required three stitches to close.
It was a tough day for O'Neal, who needed four stitches to close a cut above his left wrist suffered in a household accident earlier in the day.
Tim Duncan led San Antonio with 26 points and 21 rebounds despite missing his first 10 shots.
Kobe Bryant finished with 20 poinst for the Lakers.
Nets 99, Hornets 93
East Rutherford, N.J. With the game on the line, Jason Kidd of the New Jersey Nets stepped up and Baron Davis of the Charlotte Hornets disappeared.
Kidd hit a go-ahead jumper and scored six of the Nets' final eight points to lead New Jersey over the undermanned Hornets in the opening game of the Eastern Conference semifinal series on Sunday.
Kidd finished with 21 points in leading seven Nets in double figures.
Davis had 23 points to lead the Hornets, but he wasn't a factor in the final minutes with the game on the line. Elden Campbell had 22 points for Charlotte, which played a great game despite not having Jamal Mashburn and Jamaal Magloire (suspension).
Game 2 is on Tuesday night at New Jersey.
Copyright 2018 The Associated Press. All rights reserved. This material may not be published, broadcast, rewritten or redistributed. We strive to uphold our values for every story published.