Houston — Lance Berkman still doesn't feel comfortable at the plate, not that anyone else can tell.
"Sometimes the swing is there. Sometimes it's not," he said Sunday after homering twice to tie Sammy Sosa for the major league lead and lead the Houston Astros over the New York Mets 12-1.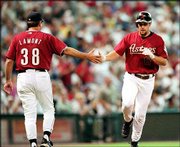 Berkman, who hit .331 last year, went 3-for-5 with five RBIs, moving his average above .300 for the first time this season at .301.
"It's kind of frustrating," he said. "It's just been peaks and valleys this year. I just want to be consistent, and that hasn't been the case. I'm tinkering with my stance and swing all the time. I went up there with five different approaches today and I only felt comfortable twice."
Berkman hit an RBI double in the first inning, then had a solo homer off Satoru Komiyama in the sixth and a three-run homer off Scott Strickland in the eighth. Berkman, who has 13 homers, had his second multihomer game this season and the ninth of his career.
"Check with me in September and we'll see who's still up there," he said. "I'm not anything like (Barry) Bonds or Sosa."
He hit .435 (10-for-23) on the homestand, raising his average to .301.
"He's a great hitter," Al Leiter said. "And he's going to get better. It's not a surprise. We stop on his name and talk about him extensively when we're going through the scouting report."
Leiter (3-2), in the worst of his seven starts this season, gave up five runs four earned five hits, two walks and a hit batter in four innings. His ERA rose from an NL best 0.92 to 1.67.
Leiter dropped to 2-6 with a 5.37 ERA against the Astros, 0-4 since Sept. 15, 1998, at the Astrodome.
Houston starter Roy Oswalt, 0-for-13 this season as a batter coming in, had a career high three RBIs, hitting a three-run single in the fifth inning, a bases-loaded blooper that bounced off the glove of second baseman Joe McEwing into the face of center fielder Jay Payton, then rolled away.
"Nobody called for it," McEwing said. "I had a good bead on it and should have caught it. It hit the top of my glove."
Braves 4, Cardinals 2
St. Louis Greg Maddux pitched six shutout innings and Andruw Jones homered as Atlanta beat St. Louis. The Braves took two of three in the series despite scoring just eight runs. The Cardinals have lost 14 of 20 and have scored six runs in the last 34 innings. Maddux (3-2), on the disabled list for the first time in his career last month due to a lower back injury, threw only 65 pitches. He allowed four hits, walked one and struck out six, including J.D. Drew three times.
Phillies 7, Rockies 4
Philadelphia Reserves Tomas Perez and Jason Michaels each had three hits and Philadelphia beat Colorado its their first three-game winning streak of the season. Perez, starting at second base for Marlon Anderson, also drove in three runs. Michaels, playing in right field in place of Bobby Abreu, scored three times.
Marlins 7, Brewers 4
Milwaukee Pitcher A.J. Burnett doubled twice for his first two hits of the season and Florida beat Milwaukee. Charles Johnson hit his first home run of the season and also doubled for the Marlins. Mike Lowell added two hits and two RBIs. Burnett (5-2) gave up four runs and six hits in seven innings. He won for the fourth time in five starts.
Giants 6, Reds 5,
10 innings
San Francisco Barry Bonds homered for the second straight day, David Bell hit a tying single in the ninth inning and Benito Santiago singled home the winning run in the 10th as San Francisco completed a three-game sweep.
Diamondbacks 5,
Expos 2
Phoenix Luis Gonzalez homered and Junior Spivey drove in three runs as Arizona completed a three-game sweep. The Expos, swept for the first time this season, lost the last four of their six-game road trip. Gonzalez homered in the first inning and singled in a run in the eighth as the Diamondbacks won their fourth straight.
Padres 6, Pirates 5
San Diego Light-hitting catcher Tom Lampkin drove a two-run triple, and Ryan Klesko and Phil Nevin each had three hits for San Diego. Klesko also scored a run and drove in another for the Padres, who took two of three in the series and have won eight of 11.
Cubs 3, Dodgers 0
Los Angeles Mark Bellhorn homered and drove in three runs as Chicago beat Los Angeles despite losing starting pitcher Matt Clement to an injury after four hitless innings. Ron Mahay (2-0) relieved Clement and allowed two harmless singles over 12*3 innings to earn his second victory of the three-game series.
Late Saturday game
Diamondbacks 6,
Expos 5, 11 innings
Phoenix Reserve catcher Rod Barajas, a .167 hitter playing in his 11th game, hit into a fielder's choice to drive in the winning run.
Copyright 2018 The Associated Press. All rights reserved. This material may not be published, broadcast, rewritten or redistributed. We strive to uphold our values for every story published.