Kabul, Afghanistan — The child sits in a dim and crowded hospital room, staring far into the distance. At first glance it is hard to tell whether the child is a boy or a girl, but the clue lies in the tiny newborn cradled in her arms.
Gulkana says she is about 15, but looks more like 12. Although she nearly died during delivery, she and her baby constitute a rare success story in Afghanistan, where a quarter of all children fail to reach the age of 5 and where one woman in seven dies giving birth.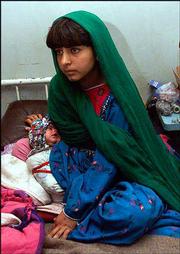 "I'm afraid," Gulkana says. "I didn't want to have any children."
Women's health, which was neglected even before the Taliban imposed strict gender segregation, has started to recover, but many problems remain.
Afghanistan has a higher rate of maternal mortality 1,700 mothers die per 100,000 births than any other country in the world except war-torn Sierra Leone. And Afghan women take that risk frequently: The average woman has seven children.
Part of the problem is a health-care system that was rudimentary to begin with and has been devastated by 23 years of war. Central Ghor province has 500,000 people and only one doctor, health officials say. But the problem is cultural and educational as well.
In most Afghan families, men make the decisions, so a woman who needs medical care needs to wait for her husband to decide. Most hospitals won't operate on a woman no matter how grave her condition without the signature of her husband or her father.
"In many parts of this country, the woman's body doesn't belong to her. It belongs to her husband or her father," says Loretta Hieber Girardet, spokeswoman for the World Health Organization in the Afghan capital, Kabul. "The whole concept that a woman would have a right to decide she needs to go to the hospital is very alien."
Pregnancy and gynecological problems are considered sexual issues, rather than health issues, and in a country where most women still see the world through the netting of a burqa, anything relating to sex is a source of shame.
Afghanistan has a chronic lack of health care, especially in the countryside. Most women deliver in their houses, with only family members or untrained midwives to help them. That is beginning to change.
Under Afghanistan's former Taliban rulers, the work of medical aid groups was severely curtailed. Even Afghan women's hospitals were severely controlled, with agents of the Vice and Virtue Ministry stationed outside to make sure no men entered.
Already, changes are clear.
The state-funded Malalai Women's Hospital in Kabul, run by Dr. Fahima Sekandari Khalil, averaged only 30 patients a day during Taliban rule. Now Khalil gets 120. Aid groups and Afghan clinics are slowly expanding into the provinces. The World Health Organization is preparing to send a caravan to villages to show a seven-minute film about women's health.
"This is the first priority, because mothers and children are the most vulnerable," says Dr. Nilab Mobarez, who returned from 14 years of exile in France to establish a teaching hospital in Kabul that will train gynecologists and send them into the provinces.
Contraceptive campaigns also are seeing surprising success. Hieber Girardet says the World Health Organization expected great resistance to contraception and has found just the opposite. The pill, which a woman can take on her own, is catching on more than condoms, she says.
"People know they're having too many children. They know they can't feed them. But they don't know how to stop having them," she says.
Copyright 2018 The Associated Press. All rights reserved. This material may not be published, broadcast, rewritten or redistributed. We strive to uphold our values for every story published.