At age 15, Kris Sperry already knew he wanted to be a forensic pathologist and medical examiner.
But never in his darkest nightmares did the Lawrence native think his career choice would one day lead him to the grounds of a rural Georgia crematory where hundreds of bodies had been dumped or buried.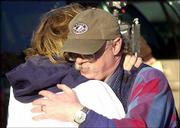 "We wondered when we were going to stop finding bodies," Sperry, chief medical examiner for the state of Georgia, said in a telephone interview. "It was very odd very weird."
In February, Sperry, 47, found himself leading the forensic investigation at Tri-State Crematory outside Noble, Ga. Law enforcement officers found dozens of bodies buried on the crematory's property. Others were left in the open in a wooded area.
The crematory owner, Ray Brent Marsh, was arrested and charged with 174 counts of theft by deception.
Sperry spent much of his time from mid-February through early March at the crematory site as the Disaster Mortuary Operational Response Team worked to find and identify the corpses. By the time the team finished, 339 bodies had been found. As of early last week, 147 had been identified, Sperry said.
The investigation will continue through the summer, Sperry predicted. Some bodies, he said, may never be identified.
While working at the crematory site, Sperry and other key law enforcement officials made it a point to meet with upset relatives of the dead who descended on the area.
"Throughout the history of mankind, society has always had some kind of structure for taking care of their dead folks," Sperry said. "We don't take our dead folks and throw them out back."
Diligent detective work
Sperry, a 1971 graduate of Lawrence High School, went on to graduate from Pittsburg State University and then earned his medical degree from the Kansas University Medical Center.
Sperry worked with the Chippewa Indians at the Red Lake Indian Reservation in Minnesota. He then moved on to New Mexico where he performed child advocacy work.
In 1990 Sperry got a job with the Fulton County, Ga., Medical Examiner's Office, and in 1997 he was named chief medical examiner for the state under the Georgia Bureau of Investigation.
In the 1980s and early 1990s then-Douglas County Coroner Dr. Carol Moddrell sometimes called on Sperry to assist her with some of the tougher cases she handled.
"He's a detective," said Moddrell, a general pathologist at Lawrence Memorial Hospital. "He's very diligent in trying to find out what caused someone to die. He's careful, and he's tireless."
The detective work is what Sperry likes about being a medical examiner.
"I like the problem-solving aspect of it," Sperry said. "There's something new and different every day."
Child abuse expert
Sperry also has been called on by the Lawrence Police Department to conduct seminars for officers. He is especially noted for his expertise in child abuse investigations, police Lt. Dan Affalter said. Sperry's last seminar for the department was in November and covered child abuse.
Affalter and Sperry were good friends in high school and still stay in touch.
"He's very frank and straightforward," Affalter said of Sperry.
Affalter and Sperry also were student assistants to their high school biology teacher, Stan Roth, now retired. Both Affalter and Roth have enjoyed watching Sperry work in the national spotlight focused on the crematory case
"He's a delightful, very intelligent man," Roth said of Sperry. "I've kept track of him every step of the way."
Sperry, his wife, Laurie, and their four children live in Stone Mountain, Ga. When he isn't studying bodies, Sperry has numerous hobbies and special interests to occupy his attention.
Some of them, such as collecting human skulls, are quite fitting for a medical examiner.
"I have one complete skeleton," Sperry said.
Though he doesn't own any personally, Sperry has a soft spot for mummies. He attended an international conference on mummies last year in Greenland.
Sperry built his own antiquarian forensic medicine library. It contains about 2,000 books, the oldest printed in 1652, he said. Add to that books about his other interests, such as photography and tattoos.
He has his own music and comic book library as well. One of his favorite musical groups is the Grateful Dead, and his comic book heroes include Spiderman and the Fantastic Four. He collects Beanie Babies and has about 400 of them.
That's not all. Sperry also has an albino bull snake and two exotic tortoises
Sperry said he has no plans to do anything different professionally.
"I'm the head of the largest state medical examiner system in the country," Sperry said. "There really is no place higher that I can go in my career."
Copyright 2018 The Lawrence Journal-World. All rights reserved. This material may not be published, broadcast, rewritten or redistributed. We strive to uphold our values for every story published.