Baltimore — A month ago, the Baltimore Orioles might have abandoned hope of winning a game when trailing by two runs in the sixth inning.
Then they played the Kansas City Royals.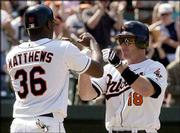 Former Royal Jeff Conine homered and Mike Bordick added an RBI single in a three-run sixth as the Orioles completed a four-game sweep of Kansas City with a 3-2 victory Sunday.
Down 2-0, Baltimore belted five hits in the sixth to take the lead. It was a stark contrast from early April, when the Orioles went through a hitting funk in which they scored only six runs during a six-game losing streak.
"When we look up at the scoreboard and see we're a couple of runs down, it's no big deal," Conine said. "Before, it was a here-we-go-again type of feeling. It's a big change from earlier in the year."
The sixth-inning rally enabled the Orioles to finish off their first four-game sweep of Kansas City in Baltimore. The Orioles went 7-0 against the Royals this season, outscoring them 55-16.
"To do that, it takes playing good baseball at that particular time. It just so happened while we were playing them," said catcher Brook Fordyce, who had his second straight two-hit day after starting the season in a 1-for-31 skid.
Michael Tucker homered for Kansas City, now 0-6 since interim manager John Mizerock replaced Tony Muser last Tuesday. The Royals have lost 17 of 21 and own the worst record in the majors (8-21).
On the positive side, at least they're done with the Orioles.
"I don't want to see the Baltimore Orioles the rest of the year," Mizerock said. "That's one wish I'll be granted. For some reason they play super well against us."
The Royals get a much-needed day off before playing Tuesday at Minnesota.
"They need to relax, they're putting pressure on themselves," Mizerock said. "Not coming to the ballpark and not putting on the uniform, going fishing or golfing, on Tuesday they should be a little more energetic."
Gary Matthews Jr. opened the Baltimore sixth with a single off Chris George (0-3) before Conine hit a 3-2 fastball over the wall in center, his third homer of the season and second in the series.
"He threw me the same pitch three times in a row. He made a mistake over the plate and I hit it," Conine said.
Marty Cordova then hit a one-out single and advanced when second baseman Carlos Febles had trouble getting Jay Gibbons' grounder out of his glove and had to throw to first. Bordick followed with a soft single to left-center.
The Royals hit successive one-out singles off Calvin Maduro (2-3) in the seventh, but Rick Bauer came in and retired both Febles and Chuck Knoblauch on called third strikes.
Buddy Groom got pinch-hitter Joe Randa on a called third strike with runners at the corners in the eighth.
Jorge Julio worked the ninth for his sixth save in seven chances, dismissing the Royals in 1-2-3 fashion.
"We're playing pretty good baseball, we really are," George insisted. "We don't have anything to be ashamed of. I'm certainly not going to hang my head, but it is frustrating."
The victory moved the Orioles over .500 (16-15) for the first time since opening day.
"It's been a while," Bordick said. "The goal of any team is to get to .500, then build on it."
Tucker put Kansas City up 1-0 in the first, breaking a 3-for-20 skid with the Royals' second home run in their last eight games.
In the bottom half, Melvin Mora hit a leadoff single and took third on a double by Matthews. George then caught Conine's scorching liner back to the box before retiring the next two batters.
George also stranded a runner in scoring position in the second inning and again in the fifth.
"Those things happen, but this club showed a lot of resiliency," Orioles manager Mike Hargrove said. "When you burn that many runs at third base, you usually don't win the game."
The Royals made it 2-0 in the sixth when Knoblauch scored on a two-out passed ball by Fordyce.
Notes: Baltimore's David Segui will see a doctor this week for an examination of the ailing left wrist that sidelined him for the final three games of the series. ... The Royals are 0-13 when scoring three runs or less. ... Kansas City has lost three one-run games during its 0-6 skid but has been outscored 39-16 during that span.
Copyright 2018 The Associated Press. All rights reserved. This material may not be published, broadcast, rewritten or redistributed. We strive to uphold our values for every story published.