Kansas University pitcher Tom Gorzelanny has sure made the most of his opportunities as a starter.
Gorzelanny earned a victory with five innings of one-hit ball against Illinois-Chicago on Tuesday and picked up his second win with a complete-game effort in KU's 5-2 decision over Centenary College on Sunday at Hoglund Ballpark.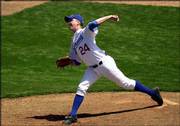 "I'm starting to get into it and I'm starting to throw better," Gorzelanny said. "I'm throwing a lot more strikes and keeping away from the walks. I came here wanting to be a starter. That's what I wanted to do, but I took the relief role, made the best of it, and now I'm getting more starts and liking it."
Gorzelanny (2-6) lost his first four decisions as a reliever and also suffered losses in two of his first three starts, but Sunday was a different story.
The freshman left-hander from Orland Park, Ill., struck out seven, walked one and allowed just one earned run against the Gents (15-41).
"That was a pretty well-pitched game," said KU coach Bobby Randall, whose team swept the weekend series. "This was phenomenal. It's taken him long to do that. Pitching is a developmental process and Tommy's worked hard at it."
Gorzelanny forced nine groundouts and his teammates committed just one error the Jayhawks' first of the three-game series.
"What won this game was pitching and defense," Randall said. "When you make one error on the weekend, that's clean, crisp baseball."
Kansas (21-24) won Sunday's game with timely hitting, too. Three of its four hits went for extra bases.
Ryan Baty collected two of those hits, run-scoring doubles in the first and third innings that scored Casey Spanish. Baty hit .462 (12-for-26) in six games against the Gents this season, with four doubles, a triple, two homers, two stolen bases, five runs and 14 RBI.
Spanish, who was playing second in place of the injured Travis Metcalf despite on-going arm problems, walked three times and scored twice.
"Casey was on base all day," Randall said. "His arm is killing him, but since Travis is out, he's stepped in there like a trooper."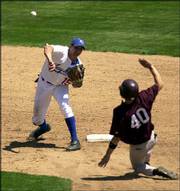 Kevin Wheeler drove home Baty with a double in the fourth and scored on a sacrifice fly by Pat Holmes. Cole Armstrong drove home the Jayhawks' final run with a sacrifice bunt in the sixth that scored Baty, who led off the inning with a triple.
Kansas won't get the chance to extend its three-game winning streak until Wednesday. Tuesday's game against Washburn has been canceled because of a conflict with the Jayhawk Scholars Banquet that evening, so the Jayhawks' next game will be at 5 p.m. Wednesday against Rockhurst at Hoglund Ballpark.
Kansas 5, Centenary College 2
Centenary 000 001 001 2 6 0
Kansas 100 301 00x 5 4 1
WTom Gorzelanny (2-6). LRobbie Buhl (0-7).
2BCentenary: J.W. Pate, Bryan Scanlon; Kansas: Ryan Baty, Kevin Wheeler. 3BKansas: Baty.
Kansas highlightsCasey Spanish, 0-for-1, 3 BB, 2 runs, SB; Baty, 2-for-4, 2B, 3B, run, RBI; Wheeler, 1-for-2, 2B, run, 2 RBI.
Copyright 2018 The Lawrence Journal-World. All rights reserved. This material may not be published, broadcast, rewritten or redistributed. We strive to uphold our values for every story published.