Paris — President Jacques Chirac was re-elected Sunday in a landslide victory over extreme-right leader Jean-Marie Le Pen, after a dramatic presidential race that shook France to its foundations.
The conservative Chirac was re-elected by the highest margin in the history of France's 44-year-old Fifth Republic. But the win, though huge, was less of a ringing endorsement of Chirac than a ringing rejection of Le Pen, joined by all of France's major political forces.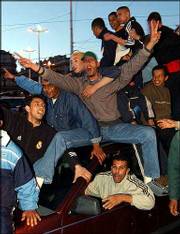 With all votes counted in mainland France, Interior Ministry figures gave Chirac 82 percent of the vote and Le Pen 18 percent excluding results from overseas territories. Just two weeks ago, Chirac had scored just below 20 percent in the first round of voting the lowest score for an incumbent president.
Chirac's victory was fueled by a larger turnout than for the April 21 first round, when 28 percent of voters stayed home. Turnout on Sunday was estimated at about 80 percent, with 20 percent abstaining.
In victory remarks, Chirac acknowledged that he had been re-elected in part by left-leaning voters who normally wouldn't have chosen him, but did so to block Le Pen, a fixture on the fringes of French politics who is widely viewed as racist and anti-Semitic.
"You took your decision in full reflection, going beyond the traditional divisions," he told voters, "and for some among you, going above and beyond your personal or political preferences."
"We have gone through a time of serious anxiety for the country," Chirac said. "But tonight, in a great spirit, France has reaffirmed its attachment to values of the Republic."
Later, under driving rain, Chirac greeted a few thousand supporters at Paris' Place de la Republique, where earlier, supporters had danced for joy when the results popped up on a TV screen. He told them France had "refused to cede to the temptation of intolerance and demagoguery."
Le Pen, 73, from his headquarters near Paris, called the result "a stinging defeat for hope in France."
Chirac's win, he said, was an "equivocal victory gained by the Soviet method, with the coordination of all the social, political, economic, media forces."
Le Pen, 73, who famously once called Nazi gas chambers "a detail" of World War II history, scored better than the 16.9 percent he got in the first round, but much worse than the 30 percent he'd hoped for.
Copyright 2018 The Associated Press. All rights reserved. This material may not be published, broadcast, rewritten or redistributed. We strive to uphold our values for every story published.