The results are in.
"For Better or For Worse," "Zits" and "Pickles" nabbed the top three spots in the Journal-World comics poll.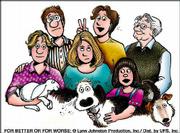 The ranking is based on ballots submitted by hundreds of you before the April 22 deadline. Dozens more ballots trickled in after the deadline, arriving too late to be counted in the official tally. We also tossed ballots from folks who tried to register their favorites and least favorites more than once.
It took us awhile, but we've dug out from under the pile of letters and e-mail (thank you, Kate and Michelle), and we have a winner.
"For Better or For Worse" was overwhelmingly the favorite among the 28 strips and panels that appear daily and Sunday in the Journal-World.
The 23-year-old strip about a Canadian family, its friends and pets remains a favorite of newspaper readers across the nation and Lawrence.
"I have been watching those kids grow up since Michael was an infant," one respondent wrote.
Well, Michael is now out of college and on his own as a free-lance journalist, and the strip, which appears daily and Sunday, is still going strong. It's in about 2,000 papers worldwide.
Relative newcomer "Zits," about a 15-year-old boy and his beleaguered parents, soared to the No. 2 spot. The strip debuted in the summer of 1997 and now appears in about 1,000 newspapers.
"Pickles," about retiree Earl Pickles and wife and pet wrangler Opal, landed the No. 3 spot in a fairly close point race with "Zits."
Rounding out the top five were "Baby Blues" at No. 4, and "Foxtrot" at No. 5.
OK. So you like some comics a lot. But we got another message from the poll results: You dislike some of the comics running in the Journal-World, too.
Topping the list of least-liked strips were "Cathy," "Marmaduke," and "Doonesbury." Interestingly, "Doonesbury" also was No. 6 among the favorite comics.
But by the point tallies, "Cathy" was far and away the least favorite among the least favorites now appearing in the Journal-World. And she wasn't in the top half among the favorites, either.
So, what does all this mean?
We'll use the information to make some decisions about changes in the comics lineup. And some are coming.
First, starting with the Sunday comics of June 16, we'll replace "Cathy" with "Baby Blues." "Cathy" will continue to appear in the daily newspaper, only being replaced in the Sunday color comics. "Baby Blues" has been a daily only comic.
A bit later, we plan to "audition" some new strips that we think you may like. Some of you gave us ideas for strips you hope to see added, and we appreciate your input. We'll give some of them a try.
As we audition the prospects for a week or so at a time, we'll ask you to let us know what you think, and we'll start replacing some of the other comics that you've told us you can't stomach. Again, any changes will be based on what you tell us.
So let us know what you think (about comics or any changes in your Journal-World). We really do care.
Copyright 2018 The Lawrence Journal-World. All rights reserved. This material may not be published, broadcast, rewritten or redistributed. We strive to uphold our values for every story published.