Collectors like to find new uses for old objects, which can be recycled in original ways.
In the 1940s, the cobbler's bench, a workshop tool, was popular as a coffee table. Now, the workbench originally used by a 1950s do-it-yourselfer is refinished to be used as a table in the kitchen or breakfast room.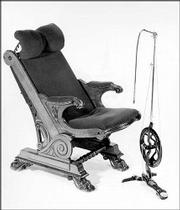 Almost anything can be recycled into a lamp base, including Mason jars, brass candlesticks, old trumpets, fire extinguishers and the more typical figurines and vases.
In the 1970s, decorating magazines pictured rooms in which inexpensive old dental chairs were used as lounge chairs. These 19th-century dental chairs with elaborate metal frames were reupholstered in modern fabrics and used in a den.
Old dental chairs are now wanted by collectors of medical and dental antiques. Prices are high, often in the thousands of dollars.
One can date a chair from its appearance and improvements. The first dental chair with an adjustable headrest was made in 1848. The first chair with an all-metal frame dates from after 1871. Before that, chairs were made entirely of wood or of wood and metal. In 1882, portable chairs were made commercially.
In 1908 came the first anatomically formed seat and backrest. Chairs before these were upholstered with tufting. The metal pump for adjusting a chair was in use by 1918; the electric pump, by 1940.
About 75 years ago, my parents bought identical china-headed baby dolls for my sister and me. I still have mine. It has a cloth body with composition hands. The back of its head is marked "Germany Kiddiejoy c1926."
The doll is in very good condition, and a local museum would like to put it on display. Can you give me any information?
Your Kiddiejoy doll was sold in the United States by Jacobs & Kassler of Furth, Bavaria, Germany, and New York City. The firm acted as a factory agent, importing dolls from Europe and selling American-made dolls.
Jacobs & Kessler registered the name Kiddiejoy as a U.S. trademark in 1926. Kiddiejoy baby dolls were made from 1924 until at least 1930. Some had heads made by Armand Marseille, a famous German doll maker.
The baby dolls came in four sizes. Some had composition bodies; others had hard-stuffed, jointed cloth bodies or soft-stuffed cloth bodies. They came with brown or blue sleep eyes. The largest doll, 15 inches tall, is worth about $600.
Can you tell me the value of my Pegasus sign? He's the horse who's the advertising symbol for Mobil Oil. The sign is a cutout of the winged horse. There is no background or writing. It is made of red-and-white porcelain on steel and measures 34 by 48 inches.
Mobil Oil's old Pegasus signs are very popular with collectors. The flying horse became an official trademark of Socony-Vacuum Oil Co. in 1931. Three years later, the word Mobil also became a company trademark. The company's name became Mobil Oil Corp. in 1966. A sign like yours, in excellent condition, should sell for $500 or more.
We are curious about a fancy porcelain covered dish that belonged to my aunt's family. The plate is slightly larger than a dinner plate. The cover has a single handle at the top and four small pierced holes, two on each side of the handle. The mark on the bottom is a shield with the words "Carlsbad, China, Austria."
The plate and cover are white with maroon and gold rims and decorations. On the cover, there's a picture of a queen identified as "Maria de Medicis." Who is she? What was the plate used for?
You have a pancake dish, which was used to serve pancakes at the dining table. The holes helped prevent the pancakes from getting soggy. It is a rare form of serving dish.
Yours was made by Bawo & Dotter, a New York importer that owned a porcelain factory and decorating shop in Fischern, Bohemia (now Rybare, Czechia). Bawo & Dotter used the mark on your dish from about 1884 to 1914.
Maria de Medicis (1573-1642) was from the famous Medici family of Florence, Italy. She was the second wife of King Henry IV of France. China painters in Europe often painted historical figures on plates.
The Kovels answer as many questions as possible through the column. By sending a letter with a question, you give full permission for its use in the column or any other Kovel forum. Names and addresses will not be published. We cannot guarantee the return of any photograph, but if a stamped envelope is included, we will try. Write to Kovels, Lawrence Journal-World, King Features Syndicate, 888 Seventh Ave., New York, NY 10019.
Copyright 2018 The Lawrence Journal-World. All rights reserved. This material may not be published, broadcast, rewritten or redistributed. We strive to uphold our values for every story published.