Raleigh, N.C. — Smart and patient that's the story of Ron Francis and the Carolina Hurricanes so far in the Stanley Cup playoffs.
Francis scored his 42nd career postseason goal 3:49 into the final period and Kevin Weekes recorded his second straight shutout as the Hurricanes beat the Montreal Canadiens 2-0 Friday night to take the opening game of the Eastern Conference semifinals.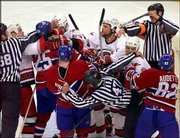 Erik Cole sealed it with 2:18 left, scoring his third playoff goal.
"We're a forechecking hockey team. We're not very creative," defenseman Glen Wesley said. "We're not going to get too many 2-on-1 or 3-on-2 opportunities. But we saw the way we're capable of playing in the third period and that's getting pucks in deep and establishing our cycle game and taking pucks to the net. Sometimes it has to be ugly goals, but we continue to find ways to win."
And Francis continues to build his Hall of Fame resume. It's his second straight playoff game-winner and has Carolina in front of a second consecutive best-of-seven series.
"He is an amazing athlete," Wesley said. "He seems to find a way to get the job done. It's a privilege for everyone on this hockey team to be able to play with a guy like him."
Montreal outscored Boston 10-2 in the third period of its first-round series and goalie Jose Theodore had a save percentage of .986. But Francis was able to tip a Niclas Wallin shot past the goalie early in the third and Weekes made it stand up, stopping 25 shots in just his third postseason start.
"Just playing this game is a lot of fun," said Weekes, who hasn't given up a goal in 136 minutes. "I remember as a 6-year-old, the first book I wrote was saying that I wanted to play in the National Hockey League. It's something I've been able to achieve and every day I live a dream. I'm a rink rat at heart."
Theodore had just made a spectacular diving stick save on rookie Jaroslav Svoboda five seconds before Wallin left his shot fly from 10 feet inside the blue line and Francis deflected it between the legs of Theodore.
"He made some saves in the second period and we were starting to wonder a little bit," Francis said of being able to beat Theodore, who has been nominated for the Hart Trophy as league MVP.
Copyright 2018 The Associated Press. All rights reserved. This material may not be published, broadcast, rewritten or redistributed. We strive to uphold our values for every story published.