Last month they took the Kansas University campus by storm: bright red T-shirts declaring "I Agree With Lee" in big white letters.
The shirts had students and others wondering: Who the heck is Lee?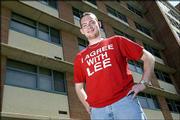 Meet Lee Bickerstaff, 19, an Emporia sophomore at Kansas University. He's the man behind the motto. And, for one week, Bickerstaff served as a poster boy for Christian beliefs.
In mid-April, a coalition of
11 Christian student groups at KU led a campaign dubbed "I Agree With Lee" designed to spread the Gospel and spark a discussion of Christian faith on campus.
The groups Campus Crusade for Christ, the Navigators, Intervarsity Christian Fellowship and ICTHUS chose to use Bickerstaff as the campaign's catchphrase and role model.
Hundreds of T-shirts bearing the motto were sold on campus, accompanied by large ads placed in the student newspaper headlined "Lee Believes" that outlined central tenets of evangelical Christian faith.
Black sheep of family
Bickerstaff, a Campus Crusade member, was surprised when he learned people on campus wanted to use him as a face for the campaign.
"I was humbled more than anything else," he said. "I knew it was an important role. Non-Christians would be observing me and thinking, 'Oh, so that's a Christian.'"
Mark Brown, KU Campus Crusade director, and Sonia Bellesine, an Anthony junior at KU and a friend of Bickerstaff's, suggested him for the role.
"For this kind of situation, we wanted somebody who not only was strong enough to handle the attention but also had a story of transformation in his life," Brown said. "Lee's a leader. He had the people skills as well as the life story. And he's just a humble guy."
Bickerstaff, a resident adviser at KU's Lewis Hall, grew up in a family in which the use and sale of illicit drugs were out in the open. His contacts with religion were few and fleeting.
Despite this environment, Bickerstaff worked hard in school, earned good grades and stayed out of trouble. He also steered clear of alcohol and drugs, a stance that he maintains.
"I was always the black sheep in the family. I still am," he said.
His parents have long been separated, and he has little contact with his father.
Bickerstaff came to Christianity through a religious friend in high school who invited him to join a church youth group activity.
He tries to live out his faith. That means no drinking, no drugs, no premarital sex.
"I like to have fun. I just try to be morally upright and have a blast at the same time," Bickerstaff said.
Never felt pressure
Similar campaigns have been launched, using Christian students like Bickerstaff, at colleges across the nation. Kansas State University, for example, recently wound up its campaign dubbed "I Agree With Joe."
While reaction to the KU campaign was mixed some students felt its message was starkly judgmental "I Agree With Lee" struck a nerve.
The campaign dominated campus conversation for a week, spilling over into the student newspaper's editorial pages and emerging as vitriolic chalked messages on hilltop sidewalks.
Morgan Sayler is one KU student who wasn't impressed with the campaign's approach.
"I think they're kind of putting what you're supposed to do (as a Christian) inside a box, rather than being open about it and letting people interpret it for themselves. A lot of faith is interpretation," said Sayler, 18, an Indianola, Iowa, freshman.
"I think there were a lot more people who were turned off by it. I saw a girl in front of Wescoe (Hall) with (devil) horns on a headband and a shirt that said 'I Agree With Satan.'"
At the calm center of the storm on campus was Bickerstaff, a mild-mannered guy who likes to talk about Jesus.
He didn't mind catching some flak about being held up as a Christian role model and serving as the campaign's centerpiece.
Bickerstaff knew that would come with the territory.
"My mind-set throughout the whole campaign was that I wanted people to voice their opinions on it. That means they're thinking," he said, smiling.
People who know him think Bickerstaff was perfect for the role he played in the recent campaign.
"He's just an awesome guy," said Bellesine, a friend from Campus Crusade. "He totally walks with integrity and seeks to glorify God with everything in his life. He models that to the people around him."
The Rev. Bill Hurlbutt, Bickerstaff's pastor, agrees.
"Lee's a neat young guy who knows what he believes and stands firmly behind it," said Hurlbutt, senior pastor of Christ Community Church, 1100 Kasold Drive. "Not only does he say what he believes, but he lives it out. I would be a very happy man if I had a whole church of Lee Bickerstaffs."
Despite the backlash from some students, Bickerstaff felt support from many Christian peers.
"Just having so many people come up to me on Wescoe Beach and say, 'Dude, I'm praying for you' I never felt pressure or overwhelmed," Bickerstaff said.
Copyright 2018 The Lawrence Journal-World. All rights reserved. This material may not be published, broadcast, rewritten or redistributed. We strive to uphold our values for every story published.