Haddonfield, N.J. — Easter 2002 is a bit special for First Presbyterian Church, a granite landmark that features a Tiffany stained-glass window portraying Jesus' resurrection.
It's not because of the added service to accommodate the extra turnout. That's customary.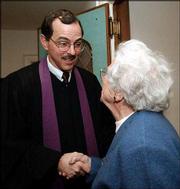 It's because this is the first Easter since 1998 with a permanent pastor in the pulpit.
Judie Rose, a member of the search committee that recruited the Rev. William Getman, sees this year's Easter, the festival of rebirth, as "a new beginning for the pastor and all of us."
"No question, there is a level of excitement and expectation right now," agreed the 47-year-old Getman.
A pastor is nothing U.S. churchgoers can take for granted these days. Though the Roman Catholic priesthood crisis is a familiar story and current scandals won't help U.S. Protestant strategists are also becoming alarmed over a growing clergy shortage, particularly in predominantly white "mainline" denominations.
Getman said the nationwide Presbyterian statistics are "frightening."
The extent of the recruiting problem in black Protestant denominations is less clear; the conservative evangelical Protestants appear to fare somewhat better.
Until recently, the shortage was thought to involve mostly small congregations, which often have to make do with part-time clergy or lay preachers. But it's beginning to affect some prominent churches in pleasant places like Haddonfield, a Philadelphia suburb. A few Lawrence, Kan., congregations are seeking new pastors.
First Presbyterian's search committee could find only four prospects it really liked, and two of those declined interest.
"The good people can afford to be choosey" nowadays, said James Garnett, a search committee member who teaches personnel management at Rutgers University. He said some years ago there would have been many more candidates.
Pulpit vacancies can have a discernible effect on local churches. First Presbyterian's membership has slipped below 1,000 for the first time in decades. Substitute ministers ably filled in, but search committee chairman James Groeling said without a regular pastor, members drift away and newcomers don't join.
A different reality
U.S. Protestantism actually developed a surplus of clergy over the past half-century in terms of raw numbers, said Patricia Chang, a Boston College sociologist who studies the clergy labor market, but that's misleading.
The 16 Protestant denominations in the National Council of Churches that reported full data this year have 135,000 clergy and 89,500 local congregations. Problem is, only 71,000 of the clergy are serving congregations. The others hold different jobs religious or secular or have retired.
The reality, experts agree, is that there aren't enough Protestant ministers ready, willing and qualified as full-time leaders. An added complication is the reluctance of some congregations to consider hiring the growing numbers of female clergy.
The Presbyterian Church (U.S.A.) is among the hardest hit, and among the most meticulous in tracking trends.
A rough indicator is the national Internet job site run by the denomination's headquarters in Louisville, Ky. In 1994, it posted 1,697 clergy seeking positions versus 944 congregations seeking clergy. By 1999, it was 942 clergy and 1,272 positions. At the moment, seekers and jobs are about equal.
The Rev. Marcia Myers, the denomination's personnel specialist in Louisville, said a third of the 11,200 Presbyterian congregations have no regularly installed pastor. Many are long-vacant rural churches. With national membership declining, 43 percent of congregations now have 100 or fewer members and can barely afford to pay a living wage, she said.
Similar droughts in young clergy were reported for the mainline American Baptist Churches, Christian Church (Disciples of Christ), Episcopal Church, Evangelical Lutheran Church in America, United Church of Christ and United Methodist Church.
An aging population
The Presbyterians' Princeton (N.J.) Theological Seminary, Getman's alma mater, is the largest mainline Protestant divinity school. The Rev. Dean Foose said when he started as placement director there in 1987, congregations looking to hire a new graduate might interview 10 or 12 applicants, but around 1996 the market flipped in favor of job-seekers.
Declining interest among young people is one factor, but another is the big increase in older people entering the clergy as a second career. That raises the average age of clergy and lowers the number of years in active service.
Cries of gloom and doom are frequently heard. Yet a poll among clergy of all faiths for Duke's "Pulpit and Pew" project is more optimistic. More than 70 percent said they were "very satisfied" with their current positions, family life and relationships with lay leaders. And 71 percent had never considered switching to secular careers.
To Princeton's Foose, that's understandable, despite everything.
"If you want a sense of satisfaction for your mind and the passions of your heart, making a difference in the lives of people, then pastoral ministry is the place," he said.
Copyright 2018 The Associated Press. All rights reserved. This material may not be published, broadcast, rewritten or redistributed. We strive to uphold our values for every story published.