By no means is Maryland a one-man basketball team.
But the NCAA East Regional champion Terrapins (30-4) do rely heavily on do-everything senior guard Juan Dixon, the Atlantic Coast Conference's Player of the Year. Dixon takes a 20.1-point scoring average into tonight's Final Four semifinal against Midwest Regional champion Kansas University (33-3).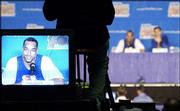 Tipoff is 40 minutes after the other semifinal, which matches Oklahoma against Indiana, or about 7:47 p.m. Both games will be televised live by CBS.
Dixon certainly has drawn the attention of the nation's press corps, which posed a simple question to Kansas players Friday: How in the heck do the Jayhawks plan on slowing down Dixon?
"Put Kirk Hinrich on him," KU senior guard Jeff Boschee said.
Defensive whiz Hinrich, who iced his still sore left ankle after Friday's one-hour practice at the Georgia Dome, figures to draw the opening defensive assignment on Dixon, a 46.3-percent shooter.
"Kirk did a good job on (Missouri's) Kareem Rush this year. Kareem's one of the best guards in the country. Kirk's done a good job on a lot of team's top scorers," Boschee said. "We'll have to help contain him, not let Dixon dictate the whole game."
The 6-foot-3 Hinrich, who averages 14.9 points and 5.1 assists per game, says his sprained left ankle is "fine" and shouldn't hamper him while trying to shadow the 6-3 Dixon and his 2.9 assists per contest.
"He moves so well without the ball it seems he's everywhere on the court," Hinrich said of Dixon. "In terms of quickness and the way he shoots the ball, I'd say he's a little like (Oklahoma's) Hollis Price. I'll try to stay in front of him, try to limit his touches and make it hard for him to get to spots he wants to get to."
It'll be up to 6-1 KU freshman guard Aaron Miles to slow 6-3 Maryland junior point guard Steve Blake, who has 272 assists to 107 turnovers compared to Miles' near-identical ratio of 242 assists to 109 turnovers.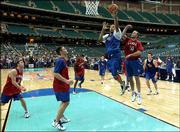 "He's a great point guard," Miles said of Blake, a 39.1-percent shooter. "He does all the things a point guard is supposed to do. He leads his team. He distributes the ball well and when he needs to he can knock down the jumper."
That leaves a size mismatch at the third guard/small forward spot for the 6-1 Boschee, who will guard 6-6 senior Byron Mouton.
"I don't think it's in their offense where he'll post me up," Boschee shrugged. "He is a good shooter from the perimeter."
Mouton, who has hit 14 of 55 threes (25.5 percent), averages 11.3 points an outing off 47.4 percent shooting. Boschee has iced 105 of 224 threes for 46.9 percent.
"We have a freshman and two skinny guys on the perimeter in me and Kirk," Boschee said. "They have the experience in that they were in the Final Four last year. We'll do our best to get rid of the nerves right away and establish the inside early."
The inside game, which always is one of KU's strengths, features KU junior Drew Gooden against sophomore Chris Wilcox, and KU junior Nick Collison versus senior Lonny Baxter. The KU duo combines for 35.4 points and 19.8 boards a game compared to the Terrapin duo's combined averages of 27.5 ppg and 15.2 rpg.
"Baxter is a tough load. There are not many guys who weigh 260 pounds who have the skills he has," the 6-9, 250-pound Collison said of the 6-8, 260-pound Baxter, who some believe is closer to 6-6.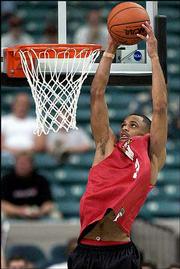 Meanwhile
"Wilcox is as athletic a big man as there is in the country," Collison added. "We feel these are probably the two best frontcourts in the country. It's the biggest test we've faced this year."
Gooden, 6-10, 230 pounds, is a bit more experienced than Wilcox, a 6-10, 220-pound soph who averages 11.9 points and 7.1 boards a game.
"I think it's harder for me to go up against a guy that is just as agile as I am," Gooden said. "I can't beat him with my speed because I think we'll be at the same pace or some of my outside moves. It's easier to play against a guy that is bigger and not as agile or mobile as I am."
Experts say the matchups are about even.
"They resemble us and we resemble them," Boschee said. "Like coach says, it comes down to who wants it more, who dives after loose balls."
You can bet KU coach Roy Williams will stress rebounding in his pregame and halftime talks.
KU, the Big 12 regular-season champion, has outrebounded opponents 44.3 to 35.4. Maryland, the ACC regular-season champion, enjoys a 41.1 to 37.4 advantage.
"We've got to be alert," Collison said. "It's got to be an attack mode the whole game."
Williams, of course, has spent countless hours thinking about strategy and matchups.
"I've had two people today ask me what the single key to the game is. This is not a cop-out answer. I think it's the total game," Williams said. "I don't think it's just rebounding. I don't think it's just running or shooting free throws. I think that Maryland plays the total game. I have always thought rebounding was the most important factor in the game of basketball.
"It's something we've worried about all year long. But maybe because of that worry and emphasis, we've done a pretty good job. I don't know we're going to face any teams that rebounded any better than Maryland did," he added. "There are so many big guys inside plus Juan and Mouton will get some rebounds too.
"What we'll have to do is try to exploit hopefully some quickness that we may have. I think you find the matchups to me don't really become important until they get in the flow of the game and you see how the game is going to flow that day. If it is a lower tempo game," he noted, "that extra couple inches they have at each spot could help them rebound a bit more and could bother us there."
Aside from technicalities, there's one final aspect to the Kansas-Maryland game emotion.
"We can't get all uptight," Gooden said. "We have to keep our same mindset and mind focused as far as winning basketball games, what got us here. We are just going to stick with that."
The winner advances to Monday's national title game; the loser calls it a season.
"It takes desire. I know we've got desire," Gooden said. "We've just got to come out relaxed, yet intense, and play our game."
Copyright 2018 The Lawrence Journal-World. All rights reserved. This material may not be published, broadcast, rewritten or redistributed. We strive to uphold our values for every story published.