When the Rev. Bill Hurlbutt was in high school, he was terrified of having to get up in front of his classmates to give an oral report.
These days, though, he stands in front of hundreds of worshippers during Sunday services at Christ Community Evangelical Free Church, 1100 Kasold Drive, and preaches from the pulpit.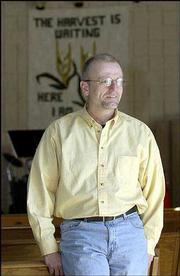 "Now, the more people there are (in the audience), the more I love it," said Hurlbutt, 47.
What changed him?
Hurlbutt actually credits his son, Bryan, 27, with helping him overcome his fear of public speaking. The pastor keenly observed his son's friendly, unguarded manner with people and has tried to emulate it.
"He's the kind of person who, once you've spent five minutes with him, you feel like you've known him forever," said the elder Hurlbutt of his son, who is co-pastor of Grand Prairie Bible Church outside of Dallas.
It's easy to see that family is one of the main things that inspires Hurlbutt, Christ Community Church's senior pastor.
His modest office features many snapshots and framed photos of family members, taken in happy times. One face that appears again and again is that of his granddaughter, Brynne Elisabeth Hurlbutt, 2.
Aside from his family, the pastor is motivated by a love of people and a love of God.
This must be apparent to those around him, because the church's congregation voted him in as senior pastor Jan. 27. Hurlbutt started work at the church in February 2001 as executive associate pastor.
He succeeds the Rev. Beau Abernathy, who left the church last summer to pursue other ministry opportunities.
Hurlbutt describes his approach to his work as relational.
"I love people," he said. "More than anything, I want to see the word of God influence the changing of people's lives. And my ministry is evangelistic I'm passionate about what I believe."
His days start at 6 a.m. and end around 9 p.m. or later. He spends that time working with others in meetings and one-on-one Bible studies or counseling sessions.
It's no wonder his office is modest. It's his least favorite place to be.
"The hardest part of my job is when I have to spend too much time in a chair in an office," he said. "The most enjoyable time for me is preaching. I love to preach."
Great place for ministry
Hurlbutt and his wife, Stacey, 46, came to Lawrence in February 2001 from Morgantown, W.Va., where they had served together at Morgantown Bible Church since 1995.
During their tenure, the congregation grew from 20 to 120 people and was able to build a new facility.
Hurlbutt was chosen for the job of executive associate pastor at Christ Community Church after he responded to an Internet advertisement for the position.
His last sermon in Morgantown was Feb. 12, and his first sermon in Lawrence was just one week later.
"Everything happened so fast," he recalled.
But the move felt like the right one for him and his wife. He had long wanted to try pastoring at a larger church and to be part of a pastoral team, rather than serving as the sole staff member for a congregation.
"I was in a place where I really sensed I needed a change in ministry," he said. "My ideal was that I could spend the rest of my life in ministry here."
Members of Christ Community Church felt the same way. They told Hurlbutt they wanted to give him the opportunity to grow old with them.
Last summer, as Abernathy prepared to leave his position as senior pastor, congregants began to urge Hurlbutt to apply for the job.
Ultimately, he joined a pool of 200 applicants, which was later narrowed to a few candidates. In the end, church members chose Hurlbutt.
"I felt a combination of humility and joy," he said. "I was humbled by them wanting me to be their pastor. Humbled and honored."
Hurlbutt and his wife are a team again, with him as senior pastor and her coordinating the church's women's ministry a full-time, volunteer position.
It feels like home to Hurlbutt.
"I've never had a place in ministry that I've enjoyed more than here," he said. "The people are open, friendly and teachable. The atmosphere is very relaxed.
"People are concerned about their spiritual growth and want to make an impact on their families and community. And the church leadership I have to work with is phenomenal."
Sense of belonging
Hurlbutt now is leader of one of the larger congregations in Lawrence. Christ Community Church's two Sunday worship services together draw about 650 people.
That includes a number of college students. Mark Brown, director of Campus Crusade for Christ at Kansas University, and Jim Musser, director of Campus Christians at KU, both regularly attend the church.
Hurlbutt's congregation affiliated with both the Evangelical Free Church of America and the Southern Baptist Convention seems poised for growth.
"We're running out of space here. This church is on the edge of growing extremely rapidly," Hurlbutt said. "My job is to get pastoral leadership in place. I want the church to be viable 50 to 100 years from now."
The church is in the process of adding two associate pastors to its staff, one to serve as youth minister and the other as a teaching pastor.
Hurlbutt sees his task as one of spurring the church's growth, both physically and spiritually.
"For a church to be alive, it has to grow both ways in numbers and in maturity," he said. "If it doesn't, it's going to die eventually."
That goal is attainable if the church is able to provide people with a sense of belonging, a feeling that they are part of a larger community.
"That's the No. 1 aspect in our society that will allow a church to hold on to people after they've come here for the first time," he said.
Copyright 2018 The Lawrence Journal-World. All rights reserved. This material may not be published, broadcast, rewritten or redistributed. We strive to uphold our values for every story published.