Chicago — Arthur Andersen LLP is putting its hopes for survival in the hands of former Federal Reserve chief Paul Volcker as the once-mighty accounting giant heads closer to a breakup and "inevitable" layoffs.
But the government's reluctance to endorse Volcker's proposal for drastic reforms leaves the plan in limbo. Volcker wants to take over the Chicago-based firm and head a seven-member governing board, for the auditing and consulting businesses to be separated and for other reforms to be made. Some 60 percent of the firm's partners work in the tax and consulting practice.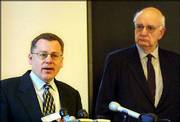 In New York, Volcker announced Friday that two senior Andersen partners will lead the firm's efforts to reform itself. Named to oversee the process until a new Andersen governing board is put in place were C.E. Andrews, head of the firm's worldwide audit practice, and Larry Rieger, another senior audit partner.
Andersen's top executive, chief executive Joe Berardino, resigned Tuesday. No successor has been named.
Faced with a continuing hemorrhage of clients, Andersen does plan layoffs, a spokesman confirmed. Responding to persistent reports the total could reach 6,000, Patrick Dorton said no decision had been reached.
Copyright 2018 The Associated Press. All rights reserved. This material may not be published, broadcast, rewritten or redistributed. We strive to uphold our values for every story published.