You better believe new Texas Christian University head basketball coach Neil Dougherty will miss living in Lawrence and working at Kansas University.
"Absolutely. I am from Leavenworth, Kansas, I'll miss everything and everybody that's been good to me," Dougherty, KU's 40-year-old assistant basketball coach, said in a phone interview Monday before being introduced as successor to Billy Tubbs, who went 156-95 in his eight years with the Horned Frogs.
"I will always have a great deal of interest in what KU is doing, who they're playing. It'll always be part of me. Roy Williams will always be a big part of me," Dougherty added, referring to his boss the past seven years.
"Not only will I come back often (to visit), but I hope to come back anyway. If ever there is an opportunity to come back, I'm sure I'd do it," Dougherty added.
Chances are Dougherty, who worked at KU seven seasons, would emerge as a candidate to replace his 51-year-old mentor at Kansas one day, if he matches Williams' success at TCU.
"I will model all things at TCU after what I learned at KU," Dougherty said. "I'd like to do at TCU what coach Williams has done at Kansas. I'm not talking about just winning. It's how his program grabbed KU fans of all kinds, how it grabbed the state of Kansas because of his integrity and what he represents.
"I look at Roy Williams as KU now," Dougherty added. "I don't any longer look at Roy Williams as a guy who came from North Carolina from KU. He is KU."
Dougherty flew to Fort Worth, Texas, for Monday's press conference, then returned to Lawrence on Monday night. He will continue to work with Williams and the Jayhawks this week through the Final Four in Atlanta.
"This will not distract me at all," Dougherty said. "The players and coaches are hoping to have two games left and we will do all we can to win them. Neil Dougherty is an assistant coach at Kansas right now.
"I talked to the players about it (Sunday night). I don't think it affected them a whole lot. If there is a chance it did, they have a couple days to get ready as opposed to saying, "I'm leaving. Let's go beat Oregon' on Sunday.
"I wanted this to be as little distraction as possible and I think that is what has happened."
Williams is pleased Dougherty has landed his first head coaching job.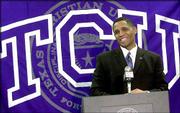 "I'm very happy for Neil Dougherty and even happier for TCU, because they are really getting the best end of this deal," Williams said, indicating he would not have any decision on new assistant coaches this week. "Neil is a fantastic person, he's going to be a great head coach and he's been extremely important to our success the seven years that he's been here.
"He's been involved in every aspect of our program. There's nothing that's going to happen at TCU that will surprise him. The difference is that he'll be making some decisions as opposed to suggestions, but there's nothing he's going to see that he hasn't had a hand in already trying to come up with a solution.
"He's the kind of guy that parents will love because he's the kind of guy that they will trust their sons with, and he's the kind of guy that's going to give TCU a basketball program, and move it to an even higher level than it is today."
TCU isn't the first school that's tried to steal away Dougherty from KU. He declined offers from Colorado State and New Orleans and perhaps some other schools. He would not list all the job offers he's had in the past.
"I know I've had other opportunities to go, for whatever reason it didn't seem like me," Dougherty said. "Fort Worth is comfortable community. I like it. This one felt like me."
TCU athletic director Eric Hyman, who first was looking for a head coach, believed Dougherty was the man for the job after an initial meeting at the Dallas airport five weeks ago. Dougherty returned for a three-hour meeting with Hyman and members of his search advisory committee before a final interview with school administrators.
"He was flawless, absolutely flawless," Hyman told the Associated Press. "He's so well grounded, so poised under tough circumstances. He answered some tough questions. He was remarkable."
Dougherty told the Journal-World he is not planning on bringing any KU coaches with him.
"I don't think so. Never say never," Dougherty said. "Every one of these guys is comfortable here. They are happy for me. All of our allegiance is to Roy Williams. I think they are pretty happy where they are."
At the press conference, Dougherty pulled from his pocket the piece of the net he cut down after the Jayhawks beat Oregon Sunday to win the Midwest Regional.
"This little piece of net, it looks so insignificant as I'm holding it, but you would have to fight me to pry it out of my hand," Dougherty said. "That's what we want to get to here. I want student-athletes who come here to have the feeling, that sense of accomplishment those young men had. It was great. That can be done. It can be accomplished. That's exactly what we are going to set out to do."
TCU did not release the length of the deal or salary information. As a private school, TCU is not required to release such information.
---
The Associated Press contributed to this story
Copyright 2018 The Lawrence Journal-World. All rights reserved. This material may not be published, broadcast, rewritten or redistributed. We strive to uphold our values for every story published.