San Jose, Calif. — Playing on offense, said Oklahoma coach Kelvin Sampson, is like running downhill. But defense?
"It's like climbing Mount Everest," he said.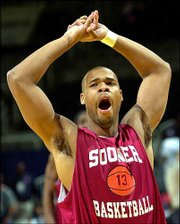 In the fall, as Sampson scanned a Sooners roster that included only two returning starters and a slew of newcomers, he knew this team would score. The question was if it would defend anybody.
"When the kids started playing hard on defense, we knew we had a chance to be pretty good," Sampson said.
Make that real good.
With a roster that features six junior college transfers, the second-seeded Sooners (29-4) are playing as well as anyone in the country as they roll into the West Regional semifinals.
They're riding a 10-game winning streak that includes a victory over Kansas in the Big 12 championship game and NCAA Tournament wins over Illinois-Chicago and Xavier. Oklahoma is a terrific rebounding and defensive team that also possesses a lethal inside-outside combination with forward Aaron McGhee and guard Hollis Price.
While Arizona the Sooners' opponent tonight has gotten more publicity for replacing four starters from the team that played for the national title last spring, Sampson has done a rebuilding job that's nearly as remarkable.
"I'm so proud of this year, because maybe it should have been a down year for us because of so many people we lost," Sampson said.
The two holdovers, Price and McGhee, are the heart of the team.
A 6-foot-1 junior guard, Price sustained a gruesome injury in Oklahoma's upset loss to Indiana State in the first round of last year's NCAA tournament. He suffered a severed triceps after colliding with Indiana State's Kelyn Block. A piece of Block's tooth was embedded in Price's right arm, and Price needed three operations to repair the damage.
But Price has bounced back with a team-high 16.5 scoring average this season.
Providing the bulk for Oklahoma is the 6-8, 250-pound McGhee, who is averaging 15.7 points and 7.8 rebounds.
Despite his imposing frame, McGhee is a sensitive player who needs positive reinforcement, Sampson added. That was the case after the Sooners lost to Michigan State 67-55 in the Preseason NIT. McGhee had four points, no rebounds and little support from his new teammates.
"I tried to tell him that he was playing with six guys that he had never played with before," Sampson said. "They didn't know how to make Aaron better. They didn't know how to get him the ball. I told him not to get frustrated and to let this team evolve."
The Sooners quickly evolved into a higher basketball form, beating Arkansas on the road by 15 points and thumping Maryland by 16 just before Christmas. The Sooners could do that because transfers Ebi Ere (14.5 points, 5.8 rebounds), Quannas White (7.9 points, 4.7 assists) and Jason Detrick (9.5 points) were immediate impact players. After Price, the next five top scorers are junior college transfers.
"You never know how they will accept each other and sacrifice individual goals for team goals," Sampson said. "A lot of times, teams fail because their greatest enemy is not the team they're playing, but themselves. They don't buy into a team thing."
That wasn't a problem for the Sooners, even though Sampson would prefer not to rely so heavily on junior college players.
But the Sooners were in a bind when they unexpectedly lost two key players Ryan Humphrey, who transferred to Notre Dame, and point guard J.R. Raymond, who was a starter most of last season before being kicked off the team.
"Sometimes necessity is the mother of invention," Sampson said.
Copyright 2018 The Lawrence Journal-World. All rights reserved. This material may not be published, broadcast, rewritten or redistributed. We strive to uphold our values for every story published.