Seneca — The bold brush strokes and rich colors on the post office wall illustrate the saga of Kansas wheat farmers working beneath dark storm skies.
It's a mural that's been on the wall since 1940, but often unnoticed by those who enter the post office lobby to mail letters or buy stamps.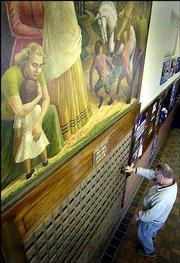 "A lot of people aren't aware of it, not aware of its value," said Postmaster Ken Hiltgen. "They aren't observant, I guess."
Hiltgen said he's one of the 5-by-12 foot mural's biggest fans.
"There's hardly a day that goes by that I don't look up and admire it. It's a great piece of work," he said.
Titled "Men and Wheat," the mural by Joe Jones was part of the U.S. Treasury Department's Section on Fine Arts project that ran from 1936-1942 to provide work for Depression-era artists.
At least 26 Kansas post offices received such artwork, and 22 still function with the artwork intact. Nationally, more than 1,300 post office commissions were awarded.
"They collectively occupy a distinctive position in our cultural history with the unprecedented outlay of public funding for decorative art projects," said Charles Eldredge, Kansas University professor of art history and American studies.
"I don't know if the idea was so much on posterity as it was the immediate crisis. The effort was to keep cultural workers alive and productive," he said.
Of the 22 active post offices, all but one Fort Scott are listed on the National Register of Historic Places because of the artwork.
Todd McDermed, customer service supervisor at the Fort Scott post office, said not being on the register probably is because the mural is in an old courtroom and not accessible to the public.
Most Kansas murals focused on regional themes like farming, mail delivery, pioneers or the Pony Express. Eldredge said the range of talent varied.
Intriguing stories
"Joe Jones is acknowledged as an important figure in American art in the 1930s and 1940s," Eldredge said. "Many of the others are forgotten."
Some of the artwork has an interesting story.
After the Seneca mural was installed, some locals said it didn't represent the area, so Jones added a farm house, corn field and cattle.
"He painted over some of the wheat field on the right side," Hiltgen said. "The original picture he submitted didn't have the farmstead or the corn."
An implement dealer complained the green tractor was a rival John Deere. Hiltgen said Jones covered the tractor trademark with his signature and painted the combine red to match the equipment the dealer sold.
Post offices were picked because many were being built then, and it was a logical venue for a government art project.
Most post offices have one mural in the lobby, but the one at Horton ended up with two by Kenneth Evett, later an art professor at Cornell University.
A former way of life
The first in 1938 showed a family picnic on a hillside, somewhat imitative of Thomas Hart Benton's style. The 4-by-11 mural reminded Postmaster Dan Kenney of the way things once were.
"You don't see families go out and picnic like this, especially in the bigger cities," Kenney said. "Kids now are more worried about having batteries for their cell phones than whether they are going to have dinner with mom and dad."
A 5-by-10 mural completed in 1939 above the post office boxes depicts a Pony Express rider changing horses at the Kennekuk station, southeast of Horton.
Kenney said he doesn't know why his post office has a second mural, although some records indicate it was done after the first one was criticized.
At the Sabetha post office, the 1937 mural titled "Tortoise and Hare" by Albert Reid shows a Pony Express rider galloping past a stagecoach.
While the murals mostly were welcomed additions, there were exceptions, notably in Salina.
Some say it was because the artists were New Yorkers; others claimed the murals depicted women as large and brawny with small heads.
The eight murals arrived in 1942 and went to the post office basement. In 1949 they were returned to Washington and stored in government archives.
The Smoky Hills Museum eventually took over the post office building and in 1988 wanted the murals. But it was too late government officials by then had no idea where the murals had been stored.
Copyright 2018 The Associated Press. All rights reserved. This material may not be published, broadcast, rewritten or redistributed. We strive to uphold our values for every story published.