Boston — For the first time in a long time, a playoff type of atmosphere returned to Boston.
"It definitely got loud today," said Paul Pierce, who scored 23 of his 32 points in the second half Wednesday night as the Boston Celtics gained ground on the Eastern Conference-leading New Jersey Nets with a 97-89 victory.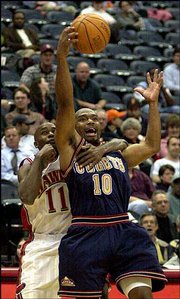 Pierce went 6-for-8 from three-point range, and Antoine Walker's 30 points included a three-pointer with 19.8 seconds left as Boston won its sixth consecutive game and pulled within three games of New Jersey in the Atlantic Division.
"We are still the best in the East, and we're not hearing any footsteps," said Jason Kidd, who had 23 points, 13 rebounds and eight assists for the Nets.
Vitaly Potapenko had 12 rebounds, and Kenny Anderson had 10 assists and a key basket for Boston after the Nets erased an eight-point deficit to tie the score 89-all with 1:53 left. The Celtics scored the last eight points of the game, igniting a crowd that has been waiting since 1995 for the once-proud franchise to return to the playoffs.
"That's playoff basketball," Pierce said. "I'd love to be a part of it every day."
Pierce isn't speaking from experience, having missed the playoffs in each of his three previous seasons. But five weeks from now, he and Walker will get their chance to experience a playoff atmosphere for real.
"It's hard for me to say. I've never been in the playoffs," said Walker, who's in his sixth year without a postseason appearance. "I think you just saw two very good teams battling."
Boston led 88-80 before the Nets got consecutive three-point plays from Aaron Williams and Kidd. The Nets trailed 88-86 when Lucious Harris went to the free throw line with a chance to tie it, but he missed the first and made the second.
Pierce hit one free throw, then Kidd hit a long two-pointer to tie it 89-all with 1:53 to go. Eric Williams hit a three-pointer with 90 seconds left; on Boston's next possession, Anderson missed a jumper, got the ball back and hit a jumper to give Boston a five-point lead with 51 seconds left, waving his arms in the air as the crowd went into a frenzy.
Clippers 96, Wizards 75
Los Angeles Michael Olowokandi had 22 points and 11 rebounds, and Elton Brand recorded his 10th straight double-double as Los Angeles beat Washington. Brand had 19 points, 15 rebounds, five assists and four blocked shots as the Clippers extended their winning streak to four games their longest since they won four in a row nearly 13 months ago.
Rockets 96, Timberwolves 95
Minneapolis Steve Francis scored 21 points, including the game-winning free throw with 9.7 seconds left, as Houston beat Minnesota, sending the Wolves to their fifth straight defeat. The Wolves held a late lead but collapsed during the final minutes as Houston took advantage of sloppy passing and closed the game with a 19-7 run.
Kings 92, 76ers 88
Philadelphia Chris Webber, playing with a dislocated right index finger, had 22 points and 11 rebounds to lead Sacramento over Philadelphia. Peja Stojakovic added 21 points and Mike Bibby had 12, including a key jumper in the final minutes as the Kings won their fourth straight.
Pistons 85, Cavaliers 84
Auburn Hills, Mich. Corliss Williamson scored 11 of his 16 points in the fourth quarter as Detroit overcame the absence of Jerry Stackhouse and defeated Cleveland. Trajan Langdon made a desperation shot with 1.1 seconds left, but his foot was on the three-point line.
Magic 119, Suns 114, OT
Orlando, Fla. Troy Hudson had a career-high 34 points and Tracy McGrady scored all 10 of Orlando's points in overtime as the Magic defeated Phoenix. McGrady finished with 35 points, going 4-of-6 from the field and 2-for-4 from the foul line in overtime.
Hawks 105, Nuggets 102
Atlanta Jason Terry scored 31 points and Shareef Abdur-Rahim added 25 as Atlanta beat Denver for its 12th straight home win over the Nuggets. The Nuggets, losing their sixth straight on the road, haven't won in Atlanta since Dec. 10, 1988. Denver was led by 20 points from Tim Hardaway.
Copyright 2018 The Associated Press. All rights reserved. This material may not be published, broadcast, rewritten or redistributed. We strive to uphold our values for every story published.