As the ground thaws, the sun warms and cabin fever hits a high pitch, the phrase "go fly a kite" takes on new appeal.
Carol Moore understands the enduring appeal of kites.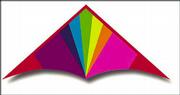 "It's not something that people need, but they sure make life a lot more fun," said Moore, owner of Wind Wizards kite company about eight miles northwest of Gardner. "It kind of makes you free. You're flying with two feet on the ground.
"When I fly a kite, I just get totally lost."
And while Moore's kite of choice is a bit out of the ordinary a 454-square-foot, rainbow-colored kite that she calls "Brutus" she enjoys sharing her enthusiasm for the pastime.
People come from throughout northeast Kansas to see what she has in stock at her store. Wind Wizards also offers dozens of kites on its Web site www.windwizards.com which does business with customers across the country.
The site offers kites in all shapes and colors, including three-dimensional models resembling multicolored fish, butterflies, pirate ships, helicopters and airplanes. Wind Wizards even offers equipment needed for kite surfing and wind-drawn kite buggies.
Moore and her son Chris, 30, started the business in 1991. They organized the Kansas City Kite Club the same year.
"We get quite a few people coming from Lawrence. We get a lot of families and kids, but it's mainly adults," said Moore, 57. "You never outgrow your need for a kite it's something that spans all generations. No matter what your age or physical ability, anybody can go out and fly a kite."
In June 1991, the Moores founded the Prairie Winds Kite Festival, which has developed into one of the premier kiting events in the region.
This year's festival will be May 18-19 at the National Agricultural Center and Hall of Fame grounds in Bonner Springs. It will feature kite-flying demonstrations, and the public is welcome to bring kites, too.
Another kite-flying fan, Peter Zacharias of Lawrence, has long known the charms of kites.
"I'm an immigrant from Germany, and in Germany, kites are pretty big," said Zacharias, owner of Goldmakers, 723 Mass. "I moved from there to Dodge City out on the prairie. When we were kids, we'd make kites out of busted-up bamboo poles and newspaper."
His business used to be a combination kite-and-jewelry store. But about 10 years ago he quit selling the kites because they kept moving and setting off his motion alarms.
"I still fly a little bit," he said. "I've got probably 40 or 50 kites, all different kinds."
| | | |
| --- | --- | --- |
| | | |
| | If you're interested in getting together with other people who enjoy kites, the Kansas City Kite Club might be just the place.Club members meet for kite flying from noon to 4 p.m. on the first and third Sunday of each month at Cedar Crest, the Kansas governor's mansion, in Topeka.Members also gather to fly kites from 1 p.m. to 5 p.m. the second Sunday of each month at Johnson County Community College, at the corner of College Boulevard and Quivira Road in Overland Park.To learn more about the Kansas City Kite Club, or to join the group, go to www.kckiteclub.org.Wind Wizards, the kite store owned by Carol Moore, is at 33525 W. 143rd St., eight miles northwest of Gardner. The store's telephone number is (913) 856-0145; call before visiting. | |
| | | |
Zacharias enjoys flying single-, dual- and quad-line kites meaning one, two or four strings. Some of them require more attention and skill than others.
"It depends on whether you want to fly while you're drinking beer or not," he joked. "The quad lines are really demanding; you have to be on your guard every minute. The dual lines are real sporty and give you moderate action. The single lines, if you have a pretty kite or a centipede kite, they're pretty cool."
The reasons for his lifelong interest in kites are fairly simple.
"It's aesthetic, and you get to go nice places outdoors. They're pretty," Zacharias said. "When I was doing it the most was when I had small children."
Copyright 2018 The Lawrence Journal-World. All rights reserved. This material may not be published, broadcast, rewritten or redistributed. We strive to uphold our values for every story published.