"Bare your innermost personality to the world."
That's exactly what you're doing when you paint the exterior of your home. Did I just make the paint color decision worse?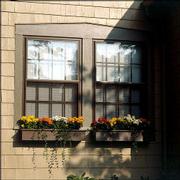 It's really not that bad. But even though I have a degree in interior design, spent six years working at an interior design studio and worked 10 years in the paint business, I still feel queasy when I'm selecting exterior colors.
Sure, I know all the rules, and I do have all sorts of tips to ensure a perfect scheme. I just can't guarantee sanity through the process.
Here's how to begin
Several months before you intend on painting, do research. Walk around the neighborhood a bit to see what other colors are being used for siding and trim. If you find a color scheme you especially like, knock on the door, compliment your neighbor and maybe they'll tell you what colors they used.
I do think it's nice to blend in with your surroundings. But with a few accents and well-placed color choices, your home can still stand out in a tasteful manner.
Next, pick up a variety of exterior paint color cards that offer color-combination suggestions. They are put together by color experts and they do take the guesswork out of combining colors. Pick up a few magazines or even books on home styles that feature lots of color photos.
Now, find a comfortable spot and spread everything on the table. Cut up the paint brochures, rip out magazine photos and create color schemes you like. Spend a few weeks on this, adding to or taking from your favorite selections.
A month before you paint, start evaluating your house. What are the surfaces made of? Shingles, brick, stone and tile are things that won't change in color, so your color scheme has to work with them.
Now shuffle through some of the colors you're thinking about for the siding. Stand back by the street, and picture the color on your home with the roof or the brick, and between your neighbors' homes.
Take the color up close to your house, and consider it against any surface that will stay. Once you have the siding colors narrowed to two or three, go purchase quarts of your colors.
OK, it's about two weeks before painting, and you need to get some sample swatches up onto your home. That's right your house will look like a patchwork quilt for a few days.
Don't paint in just a concealed area facing the back yard. Put patches of your siding colors on the front, next to the brick or stone, on the side, in areas that are shadowed and those places that get full sun.
If you've selected trim colors to go with the siding, add those as well. I have the most success when the trim color is in the same color family as the siding color, just a couple steps lighter, although all sorts of combinations can work. For your front door, add an accent color that gives your home real curb appeal
Now the fun begins. This is when you need to look at your home in the morning, at noon and in the evening, because the colors will change as the color of the sunlight changes. Once the color decisions are made, it's time to prepare to paint.
About a week before painting, head to the paint store with a picture of your home and the dimensions of the footprint in hand. This will help the experts determine how much paint you need.
---
Shari Hiller writes this column with Matt Fox. They also co-host the Home and Garden Television show "Room by Room." For more information, visit www.hgtv.com.
Copyright 2018 The Lawrence Journal-World. All rights reserved. This material may not be published, broadcast, rewritten or redistributed. We strive to uphold our values for every story published.