Chicago — The eight women move up the aisle slowly and with studied grace, their feet sliding on the floor, their arms rising up in plaintive supplication.
Dressed in white, tight-fitting tops and long, flowing skirts, their feet bare, they look a little like a team of Isadora Duncans. Or a choir of angels.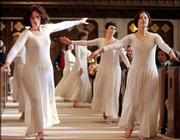 Their aisle is flanked by pews, and their stage the area in front of the communion rail at Chicago's St. Gertrude Catholic Church. They are dancing not so much for themselves or even fellow parishioners, but for God.
Religion and the arts have always been partners. Monks saved classical literature in the Dark Ages, the church revived drama a few centuries later and no one questions the strains of Bach or Mozart inside a modern church. Some of the greatest works of Western art, including da Vinci's "The Last Supper" and Michaelangelo's Sistine Chapel paintings, are virtually inseparable from their religious homes.
But dancing? In a modern church? Barefoot?
Just say amen. Sacred dance, whose practitioners have been at it for decades, is now a regular feature in the church scene.
"It is growing," said Myah McKinnie, dance ministry director at the New Heritage Christian Center Assembly of God in Chicago. "The more people see dance in church and see what's possible, the more they get interested."
"I often get calls from other churches interested in researching how you get started," said Donna Pries, a 21-year sacred dance veteran who is now choreographer and coordinator of the program at Community United Methodist Church in Naperville, Ill., a Chicago suburb. "I do think it's on the rise."
But not everyone is ready to kick up their heels and proclaim the movement a universal success.
"I wish I could say it's happening more and more," said a more cautious Michele White, the Chicago-area chapter representative of the Sacred Dance Guild, a 600-member national organization with 20 individual or group members locally. "But I am constantly surprised at how much I find going on. One problem is a lack of communication. People are doing things in their own churches, but if you don't go to that church, you're not aware of it."
Movement has history
The phrase "sacred dance" includes a broad sweep of styles and purposes, ranging from highly ritualistic dance specifically associated with religious services to secular works that focus on faith as a theme: Alvin Ailey's "Revelations" and Gerald Arpino's "Touch Me" come to mind.
The movement itself dates back for centuries, originating in tribal cultures. In modern America, a revival began in the period of ecumenical experimentation in churches during the late 1960s and dance boom years of the 1970s, fading for a while but clearly now enjoying a kind of comeback.
Most proponents are involved in what is called liturgical dance, which is sacred dance expressly associated with religious services in a church or other kind of house of worship.
The appeal of sacred dance is broad Catholic and Protestant, urban and suburban, traditional and experimental religions.
"I think it's growing, and people who are interested include non-Christians such as Muslims, Jews and Buddhists," said Jeanmarie Dwyer, president of the Sacred Dance Guild, who launched a biweekly workshop in January at her interfaith Unitarian church in Palatine, Ill.
The results can be simple and short-lived, as in St. Gertrude's 10-minute Advent undertaking. Fourth Presbyterian Church in Chicago generally features dance only on a few Sundays each year. In contrast, McKinnie's New Heritage dancers, who began performing at the church on a consistent basis 10 years ago, perform for nearly half an hour every Sunday.
For proponents, the practice is a logical form of worship.
"There's a saying that the person who sings in church prays twice," said Maggie Kast, a veteran dancer who has worked for years in a variety of sacred-dance efforts. "I like to say that the person who sings and moves prays three times."
"Dance and religion," said Rosario Orozco, dance instructor at St. Kevin Church in Chicago, "are a natural mix."
The moods also vary from solemn to joyful. Orozco's 15 women, who performed in December as part of the festivities surrounding the feast of Our Lady of Guadalupe, wore festive skirts variously colored red, pink or bright blue.
They stomped their feet loudly in one section, evoking Spanish flamenco, and they swirled and opened up their scarves for a flourishing finish. "The feast is a joyful one," Orozco said.
At New Heritage, the 20 or so dancers are men, women and young children, and their role in the gospel undertakings on a recent Sunday was part of a full-blown pageant. They traveled through the aisles, swaying and swinging their arms in the air, moving on to the front and then back again in a circling parade, ending with a dancer holding a "Les Miserables"-like banner honoring "Your Lord of Lords."
"Dance visualizes the worship and helps the interpretation of the songs," McKinnie said. "Those who can't dance themselves see us and hopefully find inspiration. They see a leap or a twirl, and it's what they're feeling inside."
Instead of an ornament, sacred dance is intended as an integral part of the worship. "I tell my children dancers that they're ministers, not performers," McKinnie said.
Overcoming barriers
Unquestionably, the vast number of participants and enthusiasts are women.
"As descendants of northern Europeans, most of us don't move naturally, and we don't like to be reminded we have bodies, especially in church," Kast said.
White said resistance sometimes comes from the disinterest of male pastors or church musical directors. "A lot of resistance stems from sexism," she said.
Sexism isn't the only barrier. McKinnie studied dance growing up in Chicago, including tap, jazz and ballet, but she stopped when she joined a Protestant denomination where dancing wasn't accepted in or out of church.
"But one day I saw a lady dancing on a religious program on TV, and I thought, 'I've been creatively dead.'"
She switched to a more dance-friendly church, and now she readily refers to 2 Samuel 6:16, which said that when the ark of the Covenant was brought into Jerusalem, a witness "saw King David leaping and dancing before the Lord."
Copyright 2018 The Lawrence Journal-World. All rights reserved. This material may not be published, broadcast, rewritten or redistributed. We strive to uphold our values for every story published.