Guantanamo Bay Naval Base, Cuba — A quarter of the prisoners at this remote U.S. outpost kept to their hunger strike Friday to protest guards having removed the turban from a praying captive's head.
Of the 300 suspects captured in the war on terrorism and flown to this U.S. naval base in southeast Cuba, 73 declined breakfast and 75 refused lunch on Friday, military officials said.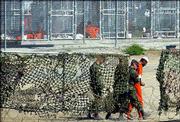 In the early hours of Friday, two inmates were taken to the camp infirmary and given fluids intravenously to treat dehydration, officials said. One of them broke his fast and was returned to his cell. The other refused to eat and remained in the infirmary.
"We're certainly not going to allow them to harm themselves or starve," said Marine Capt. Alan Crouch, a spokesman for the detention mission.
The number of detainees refusing to eat has declined steadily since they began refusing food on Wednesday, in their first protest since prisoners first arrived on the base Jan. 11.
On Wednesday, 159 detainees skipped lunch and 109 rejected the evening meal. Thursday, 107 detainees refused breakfast, 194 declined lunch and 88 turned down dinner.
Even those refusing food appear to be drinking water, said Coast Guard Lt. Cmdr. Jeff Carter, another spokesman.
Detainees told officials the hunger strike was in response to two guards stripping a detainee of his turban during prayers on Tuesday.
But in an address to prisoners Thursday night Brig. Gen. Mike Lehnert, the Marine in charge of the detention mission, indicated there might be more to the fast than the turban issue.
"He told them at this point he could not to tell them how long they will be here or what will happen to them in the future," Marine Maj. Stephen Cox said. And, "Gen. Lehnert also told the detainees that they will be judged fairly" when the time comes.
Concession unappeasing
Friday's hunger strikers appeared to be unappeased by Lehnert's concession of allowing them to wear turbans with guards having the right to inspect the headgear at any time.
The new policy "was explained to the detainees, and they've talked back and forth to the commanders and the chaplain several times ... and we are hoping it will ease the tension," Air Force Brig. Gen. John Rosa, deputy director of operations for the Joint Chiefs of Staffs, told reporters at the Pentagon on Friday.
Friday afternoon, Camp X-ray was quiet, with detainees passing the time as usual pacing in their chain-link cells, sitting or lying down. A few were led to and from interrogations, carried out in wooden buildings near their cells. They are not allowed lawyers.
Tension has been building among the inmates, some of whom were held for months in Afghanistan before the first were brought to Guantanamo seven weeks ago.
In recent days, some have been ignoring a taped call to prayer and instead have picked individual detainees to announce and lead daily prayers.
A week ago there was "a disturbance" when a guard doing a random search of a cell inadvertently dropped a copy of the Quran, officials said.
Copyright 2018 The Associated Press. All rights reserved. This material may not be published, broadcast, rewritten or redistributed. We strive to uphold our values for every story published.