Kirk Hinrich and Drew Gooden aren't the only ones lacing up their hightops to take care of business this month during the Big 12 and NCAA men's basketball tournaments.
Paul Vander Tuig is right there with them.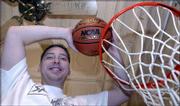 "When you do what I do, this is what you live for," said Vander Tuig, trademark licensing director for Kansas University. "It would be the ultimate in licensing to license a national championship program. It would be the ultimate."
Such an ultimate achievement with Hinrich, Gooden and the rest of the Jayhawks cutting down the nets April 1 in Atlanta would put a full-court press on Vander Tuig's abilities and post a big score for Lawrence businesses, many of whose sales this month will be tied to the Jayhawks.
From sporting-goods stores selling basketball equipment to bars and restaurants bracing for raucous crowds during games, Vander Tuig knows the rush will be on.
By his count, Vander Tuig figures that a trip to the Final Four alone could generate $250,000 in royalty payments for the use of the Jayhawk logo on products ranging from T-shirts to fishing lures. A national title would add another $500,000.
He's already bracing for the flood of requests that he hopes pour into his Burge Union office from businesses looking to hawk KU wares.
"I'm optimistic every year, like a lot of people, and we are fortunate that we have a great group of kids and we're in the hunt every year," he said. "That's really neat for the University of Kansas."
It's also good for the folks at Play It Again Sports.
Ryan Lantz, floor manager for the store at 1029 Mass., has a full lineup of basketballs, nets, backboards and rims in stock all in preparation for the inevitable heightened interest of Lawrence hoops fans.
He said he hoped to have a set of court-marking systems on the shelves soon, so that people could create their own free-throw stripes and three-point lines in the driveway.
"We definitely see an increase in sales," Lantz said.
"We have people who want to do the things they see on TV at home things like Michael Jordan or Drew Gooden dunking, or something more realistic like Jeff Boschee swishing a three-pointer."
Play It Again's optimism comes as the popularity of basketball-related equipment wanes. U.S. sales of basketball-related equipment and accessories slipped to $375 million in 2000, down from a height of $400 million in 1997, according to the Sporting Goods Manufacturing Assn.
So-called "extreme sports" continue to cut into the market share for hoops products, with snowboards and inline skates grabbing more and more sales.
But basketball business always rebounds in March, even though it's the end of the season for many youth, high school and college teams.
"The tournament is a great way to whet the appetite of a fan," said Mike May, a spokesman for the association in West Palm Beach, Fla. "There is a subliminal message that is delivered to the fan 'This is a fun game' and it brings out the kid in everyone.
"There will be some people who will watch this tournament and fall in love with basketball again, and grab a ball in the garage and go outside and start making free throws like they saw on TV."
Vander Tuig will be among the thousands watching in Lawrence, although he's hoping to be buried beneath license applications because that would mean the Jayhawks were winning, with the royalty proceeds going to finance scholarships on campus.
"It's a busy time of year," he said Friday, "but it's better to be busy than not."
Copyright 2018 The Lawrence Journal-World. All rights reserved. This material may not be published, broadcast, rewritten or redistributed. We strive to uphold our values for every story published.