Lakeland, Fla. — Paul Byrd, who pitched last year after undergoing shoulder surgery, said Friday that he can't believe how much better his arm feels this spring.
"Night and day," Byrd said, after starting the Royals exhibition opener against Detroit Friday. "Last year it took me forever to warm up. You had days your shoulder ached, even though you just got it fixed. Some days you battled through it. This year I start playing catch and it feels good right off the bat. I feel strong."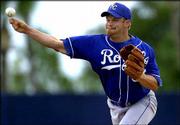 Byrd allowed one run on three singles and a walk against the Tigers in a 5-3, 11-inning loss.
Byrd was not expected to pitch last year after undergoing shoulder surgery in August, 2000. But he appeared in 28 games, all but three of them starts, and by August was pitching for the Royals like he was in 1999, when he was All-Star pitcher with the Philadelphia Phillies. He won five straight starts from July 25 to Aug. 16.
"You can throw as many bullpens as you want, but when those hitters step in there, it is another whole level that comes up," Byrd said. "You turn it up a notch. You get extra zip on the fastball.
"I just wanted to get out there, face some hitters, throw all my pitches. My ball had a lot of life."
The Royals turned a double play behind Byrd in the first inning.
"I've got good players behind me, which I love because I'm not a strikeout pitcher," Byrd said.
Byrd was 15-11 with a 4.60 earned run average with the Phillies in 1999, but his shoulder was aching by the end of the season and required surgery the next year.
Byrd, who the Royals acquired in a trade last June 5 for reliever Jose Santiago, is excited about pitching this season.
"This year my arm feels really good," Byrd said. "The ball comes out of my hand well. My breaking stuff is sharper. I know the American League a little bit. I know what to expect. All those things come into play a little bit. I'm expecting to have a great year.
"I was very pleased with last season. I wasn't even supposed to be pitching last year. I felt like I was returning to the status of a quality All-Star starter."
Byrd, 31, has 512 seasons in the majors and is the Royals' senior starter. Younger Kansas City pitchers seek out Byrd for advice.
"I don't look at myself as like Greg Maddux, somebody who has figured it all out," Byrd said. "By default, I'm the older guy of the rotation.
"I had to figure out how to survive with a bum shoulder, throwing 82-84 miles per hour in the National League. You have to figure out how to get guys out without stuff. It comes down to location and watching the hitters, knowing what they are thinking, studying the hitters.
"You learn from all over. I've pitched with Curt Schilling, Maddux, Tom Glavine. I've learned from pitching with John Franco in bullpen with the Mets. John Franco throws 86-87-88 miles per hour, yet is one of the premier closers in the game. He's got more saves than any left-hander in history. You watch guys like that. It's hard for me to watch Randy Johnson and learn anything."
Chuck Knoblauch, who had an RBI double in the third, said he's enjoying being a Royal, after spending the past four seasons with the New York Yankees.
"It's great because I know I'm going to play every day," said the left fielder, who signed a one-year $2 million contract in December. "It's a good fit for me."
The Yankees decided Knoblauch didn't fit into their plans.
"They told my agent that they weren't interested in me coming back," Knoblauch said. "It wasn't a surprise because the writing was on the wall, and that didn't bother me.
"I accomplished what I wanted to there, and that was to win a championship. I was close to walking away with four, so there's definitely not any regrets or hard feelings."
Copyright 2018 The Associated Press. All rights reserved. This material may not be published, broadcast, rewritten or redistributed. We strive to uphold our values for every story published.