As long as Cynthia keeps taking her medication a potent mix of anti-depressants, anti-psychotics and pain killers she'll be OK.
She won't act crazy or try to kill herself.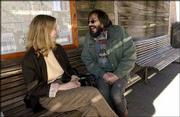 "As long as I have my medication, I can make it," she said. "I'm a survivor."
Without her medication, bad things happen. Her mental illness, she said, takes over.
"I lose all the balance there is in my life. My ability to function is erased," she said, gently tapping the table in a counselor's office at Bert Nash Community Mental Health Center. "When you can't function, it's hard to be normal. I don't ever want to be without my medication."
But state lawmakers aren't so sure. Earlier this year, Gov. Bill Graves proposed and few legislators have since resisted his idea saving $4.3 million by dropping people such as Cynthia from the state-funded MediKan and General Assistance programs after 24 months.
Cynthia, 46, has been on both programs for 2 1/2 years. She talked to the Journal-World on condition her last name not be published.
As proposed, the cuts would take effect July 1. MediKan would no longer pay for Cynthia's medications, and she would lose the $271 she gets from General Assistance each month. Her medications cost more than $400 per month.
"It would be devastating," she said.
She's not alone. State records show that in Douglas County 74 adults all of them poor, most of them mentally ill are on MediKan and General Assistance. Of these, 14 have used the program for at least 24 months and would be cut off.
Statewide, welfare officials expect the cutoff to affect 600 adults.
"I'm afraid that MediKan and GA, as they exist today, are in jeopardy dire jeopardy," said Sen. Sandy Praeger, R-Lawrence.
"And it's all because of where the money comes from," she said. "They're both state-funded. Neither one of them has the federal matching funds that we're all so afraid of losing.
"And that's unfortunate because we're all going to end up paying for this one way or another, whether it be more people showing up at the emergency room or the police having to arrest more people who go off their medications. The costs aren't going to go way."
Bridging the gap
Graves proposed the 24-month limit because neither MediKan nor General Assistance are meant to be long-term programs. Instead, they're intended to bridge the gap between a person's becoming disabled and qualifying for federal disability payments.
The average ruling for the federal aid takes at least nine months; a year is not unusual.
"It's a very complicated, time-consuming process," said Wayne White, director of research and program development at Kansas Legal Services, a Topeka-based program that last year guided 540 people through the required paperwork, hearings and appeals.
"If someone loses at the hearing level and has to file an appeal or go to court, it's not unusual for the process to drag out for three years."
Cynthia's case is stalled, she said, because she worked for a Lawrence nursing home last year.
"I was a certified nurse's aide at Brandon Woods retirement center for about three weeks," she said. "I tried to work, but I couldn't handle the stress. Every night, I went home and cried."
Cynthia's diagnosis includes major depression, borderline personality disorder and post-traumatic stress disorder.
"I was shot and suffered a fractured skull during a robbery in St. Louis," she said.
With or without her medicine, she is afraid she'll end up in the psychiatric unit at Lawrence Memorial Hospital if she has to work.
"I can't handle the stress," she said. But the Social Security worker assigned to her case has denied her federal disability and wants her to keep trying for a job.
So, until Cynthia finds a stress-free job, assuming such a job exists, she's relying on General Assistance and MediKan. She also lives in subsidized housing and gets $135 a month in food stamps.
Better off than most
Diane Hachmeister, who's been a case manager at Bert Nash the past five years, says Cynthia is better off than most MediKan-General Assistance recipients.
"She's a very resourceful person she gets out, she takes her medications, and she keeps in touch with her case worker," Hachmeister said.
"I'm worried about what will happen to her, but I'm even more worried about the people who aren't as resourceful," she said. "Mental illness tends to be a very cyclical, very isolating disease. What about those who won't come out of their apartments because voices are telling them if they do, their families will be killed? What's going to happen to them?"
Many, she predicted, will join the ranks of the city's homeless.
A perhaps unintended consequence of the state denying services is that the recipients' conditions will worsen to the point that the federal government at last steps in to help.
"There's sort of cruel irony going on here," said Meredith Sayers, also a Bert Nash case manager. "Because the worse they become, the more likely it is that somebody at Social Security will say they're disabled. So, really, what we're doing is encouraging them to get worse so maybe they can get better. That seems like a pretty inhumane thing to do."
Copyright 2018 The Lawrence Journal-World. All rights reserved. This material may not be published, broadcast, rewritten or redistributed. We strive to uphold our values for every story published.